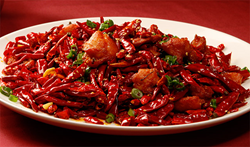 "We are truly honored to be one of the San Francisco Chronicle's top 100 SF restaurants. We hope to continue serving the people and San Francisco and the surrounding region with high quality Sichuan cuisine for many, many years to come."
San Francisco, CA (PRWEB) May 19, 2016
For 21 years, esteemed food critic Michael Bauer of the San Francisco Chronicle has published his annual list of the top 100 restaurants in the San Francisco Bay Area. Among the newcomers to the 2016 list is a Chinatown favorite, Z & Y Restaurant.
Opened eight years ago, Z & Y Restaurant specializes in authentic Chinese cuisine. The extensive menu features a wide variety of culinary options. Standouts include dishes such as whole fish in spicy sauce with hand-pulled noodles, stir-fried Chinese cabbage with chili peppers, chicken with explosive chili peppers, cumin beef,steamed soup dumplings, steamed chicken soup with Chinese herbs; bitter melon with honey, and seasonal vegetables.
Chef Li Jun Han is an internationally renowned chef in the world of authentic Asian cuisine and also owns Chili House in the Richmond District in San Francisco. His reputation has been built on his experience preparing food for some of the most distinguished men and women in the world. This list includes presidents, vice presidents, and foreign ministers of the People's Republic of China.
Michael Bauer's Top 100 restaurants span a broad region that boasts an impressive density and diversity and delectable culinary experiences. From the city of San Francisco to the wine country destinations like Napa and Sonoma, to East Bay establishments in Berkeley and Oakland, to stand-out locations in the Peninsula and South Bay, the Bay Area arguably has as rich of a dining scene as anywhere in the country.
"We are truly honored to be one of the San Francisco Chronicle's top 100 SF restaurants," say Chef Han. "We hope to continue serving the people and San Francisco and the surrounding region with high quality Sichuan cuisine for many, many years to come."
Z & Y Restaurant is located in the heart of San Francisco's Chinatown neighborhood at 655 Jackson Street. Call (415) 981-8988 for reservations or reserve online.