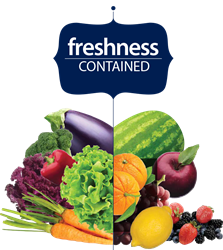 (PRWEB) May 18, 2016
Cambro, the global foodservice equipment and supplies manufacturer, has launched its new Freshness Contained brochure and a cool, fresh App to go along with it.
For foodservice operators, their profit is dependent on serving fresh, tasty, and visually appealing food, not in throwing it away. Cambro understands how critical it is to keep perishable foods in the best environment possible. Freshness contained is the perfect tool to help operators confidently store their fruits and vegetables in the safest way possible and in the right container, every time!
The team at Cambro continues to support foodservice operators worldwide not only by providing storage products for every application, but also tried and tested recommendations on how to best store their produce for extended shelf life.
Freshness contained offers operators food storage solutions that are not only designed to retain the freshness of perishable foods but also the quality, appearance, flavor and nutritional value for as long as possible.
To take a look at the new look App, and to request your copy of the Freshness Contained brochure visit http://www.cambro.com/freshness.
About Cambro
Cambro Manufacturing is based in Huntington Beach, California, USA, and is a leading manufacturer and supplier of equipment and supplies to the foodservice industry worldwide. For more information about Cambro, visit http://www.cambro.com.