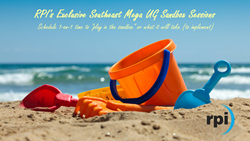 Schedule a 1-on-1 meeting in our Sandbox with one of the RPI Experts
Baltimore, MD (PRWEB) May 18, 2016
RPI Consultants is a Platinum Sponsor for the 2016 Infor Southeast Lawson User Group (SELUG) Mega Meeting being hosted at the Hilton Resort at Kingston Plantation in Myrtle Beach, South Carolina on May 22nd, 23rd, and 24th. This is the third consecutive year RPI attends the SELUG Mega Meeting as a Platinum Sponsor. Over 15 RPI Consultants will be attendance to deliver presentations and 1-on-1 sessions on a variety of topics including Global HR and Contract Management.
RPI Attendees include RPI Partners Richard Stout, Justin Braun and Keith Wayland, HCM Practice Manager Melissa Olson, Senior Procurement Consultant Stephanie Kowal, Senior Technical Architect Kathy Williams, Senior Technical Consultants Jeff House, Senior Financials Consultants Cindi Brackins and Chris Gordon, HCM Consultants Lisa Cokes, Guyla Grover, Jackie Dudas, Ashley Rhodes and Senior ISTS Consultant Chad Tucker. Also attending will be Jeff Brewster, RPI's Regional Practice Manager who covers the entire Southeast and Bill Geddy, RPI's VP of Marketing & Sales.
"This is always one of the best Lawson User Group meetings every year. RPI has had an ongoing commitment to invest in the relationships and customers that are part of it. Our presentations have been well received over the years and we're excited to bring back some of those presenters with new content" Jeff Brewster notes.
"It's really exciting to see RPI make this kind of investment in this meeting. We'll have more consultants onsite at this meeting than some of our competitors have consultants total" adds Bill Geddy.
Presentation headliners include Melissa Olson, Richard Stout and Stephanie Kowal.
Melissa Olson, RPI's HCM Practice Manager, will lead presentations focused on Global HR/S3 Differences and Performance & Goal. She will also host one and one sessions to review Global HR and Talent Management functionality and implementation strategies. Melissa Olson has vast experience in the Lawson HCM space, as both a Senior Consulting and a former Lawson HCM customer. As an Engagement and Project Engagement Manager she has supported full cycle HCM implementations, Employee and Manager Self Service deployments, Infor/Lawson upgrades, and Global HR implementation and optimization endeavors. As RPI's HCM Practice Manager she is responsible for the development of RPI's HCM service offering and for ensuring customer satisfaction. She has frequently presented at Lawson User Groups throughout the country and is recognized as a thought leader.
Richard Stout, RPI's Technical Practice Manager, will host a panel on Landmark and Configuration Console. He will also be able available for one on one deep dives into Landmark and one of his favorite Infor solutions, IPA. With over 10 years of experience working on a variety of highly complex Lawson integration projects, Mr. Stout has developed a deep understanding of Lawson architecture. Richard has installed and supported the full suite of Lawson products, but specializes in translating business requirements into the development and implementation of a solution leveraging a variety of available technologies. He has worked extensively with ProcessFlow / Infor Process Automation (IPA) and various reporting, workflow, and imaging solutions. At the forefront of early adoption of Infor technologies, Richard is a regular presenter and has been an IPA advocate throughout the Lawson community.
Senior Lawson Procurement Consultant Stephanie Kowal will deliver breakout sessions on Contract Management and Best Practices for RQC. She will also be available to meet one on one with customers to review Contract Management functionality and deployment strategy. Mrs. Kowal has extensive experience working in materials management, process improvement, project management and system administration. She has lead implementations and process improvement efforts surrounding electronic requisitions and approval processes and created user training materials and sessions for more than 1,000 requesters and approvers. Before coming to RPI, Mrs. Kowal was the Supply Chain Consultant & System Administrator for a large health system. She has been a frequent presenter on Lawson Procurement topics since joining the RPI team.
Additionally, RPI will host 1-on-1 planning sessions with customers to advise and review their Infor Lawson project roadmap over the next 3-5 years. Justin Braun, RPI's VP of Service Delivery will lead these sessions. Mr. Braun has been providing thought leadership to Lawson clients on various projects since August, 1999. His broad application knowledge is supported by an in depth understanding of the relationships and interdependencies of technology and process. Mr. Braun has managed enterprise applications within the IT organization of a healthcare organization running all Lawson application suites, resulting in an in-depth understanding of the staffing levels and skill mix required to appropriately support and optimize the Lawson system. Mr. Braun has been able to synthesize these complimentary skills in a variety of ways, including full cycle implementation phases such as design, configuration, testing, training and go-live support. He has led post implementation optimization assessments, conducted business process review sessions; and developed custom reporting to support ongoing business and implementation functions.
RPI's Presentation Line-up for SE Mega meeting is as follows:
Performance & Goal Management - Jackie Dudas & Melissa Olson
Learn how Infor's Performance Management module can utilize core information from Global HR to build out your appraisal form along with the ease of set up and cascading of goals and the delivered approval and notification process to keep your managers and employees in the know every step of the Performance Review process. Monday 5/23 @ 4:10 PM - Palisades B
Activity Management: Bring Your Projects Out of the Shadows – Cindi Brackins
Learn how Lawson's Project Accounting (AC) can help your organization keep track of project expenditures, and project budgets including PO and RQ commitments. Review all the cool things organizations have done with Activities. Tuesday 5/24 @ 8:15 AM - Palisades C
Contract Management: Best Practices – Stephanie Kowal
Learn about leading practices in the implementation and optimization of Infor Contract Management. This session will provide an overview of Contract Management, how it integrates with your procurement S3 modules, as well as the improvements it can offer to your current contract processes. The presentation will also highlight a typical project approach and design process along with a snap shot review of additional features offered within the Contract Management application. Tuesday 5/24 @ 8:15 AM - Palisades D
Landmark and Configuration Console Panel Discussion - Richard Stout, Ashley Rhodes, Kathy Williams, Jeff House
Bring all your landmark and configurations console questions to stump the RPI Panelists! Tuesday 5/24 @ 9:15 AM - Palisades A
RQC Best Practices - Stephanie Kowal
Learn about leading practices in the implementation and optimization of Lawson Requisition Center in relation to planning, configuration, end user training and support. Discuss opportunities for continuous improvement by increasing RQC compliance, improving templates, reducing special orders and leveraging Process Automation to build powerful approvals. Tuesday 5/24 @ 9:15 AM - Palisades D
ACA Reporting Roundtable - Guyla Grover
Join us for an ACA Q&A to discuss BN 299 Status (Pending development) and strategic considerations when tracking hours, pay classes, employee statuses, categorized positions and spouses and dependents. Tuesday 5/24 @ 9:15 AM - Palisades E
Lawson AM: Game On! - Chris Gordon
Learn everything you need to know about creating, depreciating, disposing and transfer Assets in Lawson's fully integrated module, including how to leverage asset templates in PO and AP and how to capitalize assets through activities. Tuesday 5/24 @ 1:15 PM - Palisades D
S3 to GHR Differences - Melissa Olson
Learn about the functionality differences and enhancements coming in Global HR over your existing S3 HCM system. Tuesday 5/24 @ 2:15 PM - Palisades E
About RPI Consultants
RPI Consultants is a business applications implementation and optimization firm focused on delivering best practices through technology, systems integration, and process redesign. The RPI team includes certified technical and functional experts in Infor's Lawson products; Kronos; and Lexmark's Perceptive Content, Perceptive Capture and Kofax as well as other automation technologies to enhance the procure-to-pay, financial reporting, and human resources processes.
RPI's model focuses on delivering solutions to specific business problems through on-demand strategic intervention. Our team-based approach allows us to leverage the best resources part-time, on a task-by-task basis, while working closely with our clients to identify opportunities to minimize costs associated with travel and downtime. RPI prides itself on providing customers with the most value for their dollar, delivering value-added information and genuinely caring about the outcome of an engagement.