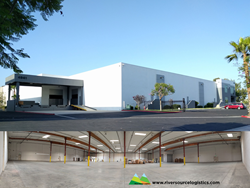 The Largest and Closest FBA Inspection and Preparation center in the USA
Los Angeles, CA (PRWEB) May 24, 2016
River Source Logistics has announced their new 43,000 square foot facility is complete and operational. This new facility is optimally located just 19 miles from the port of Los Angeles and Long Beach, the largest importing gateways in the United States. It is also located just 19 miles from Los Angeles International Airport making it the ideal FBA inspection warehouse for air freight as well.
"We are thrilled to open our new warehouse, our prime location and size is really going to allow us to provide our customers faster service and lower prices." said Kevin Chon, River Source Logistics Co Founder. "With container lead times of only 14 days, you really can't beat shipping to the port of Los Angeles from China."
With Amazon's increasing warehouse storage fees, River Source Logistics increased storage space will allow sellers to store and send in inventory as needed to the FBA warehouses through out the country. "We're able to get forwarding shipments in and out within 24 hours of receiving." said Jin Chon, River Source Logistics other Co Founder. "Our team is familiar with all aspects of inspection, bundling, prepping, repackaging, and even professional photography for your products."
River Source Logistics has preferred freight forwarding and customs brokers who make the whole process streamlined and easy for even the newest to importing. Amazon's FBA platform makes starting your own e-commerce business easier to scale than ever. River Source Logistics has made it even easier by streamlining the importing and logistics portion for sellers so they can focus on product development.
With the increase of Amazon 3rd part merchants who are building their business from home and small offices, the ability to outsource your warehousing and inspection services so close to the port makes scaling up your amazon business a no brainer. http://www.riversourcelogistics.com