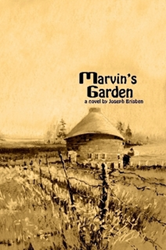 IOWA CITY, Iowa (PRWEB) May 18, 2016
"Marvin's Garden" (published by Lulu) tells the story of an abused housewife in Pond Creek, Oklahoma, who decides to murder her husband. She fears conventional methods because she is afraid her husband will catch her in the act and kill her first. Recalling that her husband's father and brother died from heart attacks and remembering that "the way to a man's heart is through his stomach," she decides to let him eat himself to death, but before that happens, she encounters a complication.
Author Joseph Brisben says his book has a sense of compassion, humor and connection with rural society that people don't often see. He believes it will appeal to readers because it is a black comedy, fantasy and spiritual adventure, and he adds that the book doesn't have car chases, buildings being blown up or gratuitous sex, which are elements often included in other novels.
An excerpt from "Marvin's Garden":
For some reason, without a roof, the barn reminded me then of a greenhouse. It would be Marvin's Garden – only it wasn't going to hold any plants, just a bunch of stuff – stuff that hardly anyone else wanted.
"Marvin's Garden"
By Joseph Brisben
Softcover | 6 x 9in | 118 pages | ISBN 9781483444901
E-Book | 118 pages | ISBN 9781483444895
Available at Amazon and Barnes & Noble
About the Author
Joseph Brisben has been writing fiction off and on for more than four decades. He studied English and American literature at the University of Chicago and at Drake University. In recent years, he participated in the Summer Writing Program at the University of Iowa. Now retired, Brisben has worked as a reporter and copyreader, in college public relations and as an investment counselor. In his spare time, he sings and plays trombone and a number of folk instruments. He has four children and four grandchildren.
Lulu empowers people of all ages to explore and express their interests, passions and expertise through books, photography and art. Since introducing self-publishing in 2002, Lulu has empowered creators in more than 225 countries and territories to produce nearly two million publications. Lulu Jr. allows children to become published authors, encouraging creativity, strengthening literacy and building self-esteem. Picture.com offers professional photography of collegiate and professional sports, memorable and historic events, fine art and home décor. For more information, please visit http://www.lulu.com.