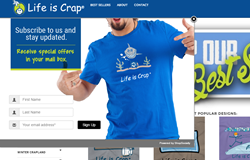 We are known for our sense of humor but the sales conversion rate of 31.18% and the 2% rate of new email subscriber acquisition achieved using Get-an-Email app is something that we are taking very seriously. - Susie Lefko, COO at Life is Crap
(PRWEB) May 19, 2016
ShopSocially revealed that an innovative apparel e-tailer Lifeiscrap.com has achieved an unprecedented sales conversion rate of 31.18%. Life is Crap has been using ShopSocially's Get-an-Email app that converts website traffic into qualified email subscribers. These subscribers purchase after being encouraged to join the Crap Club where they receive $5 off on trendy t-shirts, sweatshirts or hoodies. Using this app, 2% of all website visitors were easily converted into high-quality email subscribers providing their full name and even their much sought after date of birth. Life is Crap is part of an expanding portfolio of online businesses recording incremental increases in key conversion figures using such robust marketing strategy.
Businesses such as; retailers, travel websites and many other eCommerce players are using the Get-an-Email app to quickly build their email subscription databases. Clever incentives see website visitors take prompt action to avail of a range of benefits. In the case of Life is Crap, this sees subscribers gain access to exclusive offers, deals, and presents from the t-shirt company renowned for its funny slogans. To give you a flavor of its unique style, one of the most popular designs is, "OUT OF COFFEE Life is Crap."
"We are known for our sense of humor but the sales conversion rate of 31.18% and the 2% rate of new email subscriber acquisition is something that we are taking very seriously, commented, Susie Lefkovits ,COO from Life Is Crap. "These figures were achieved using ShopSocially's Get-an-Email app. The company understands how to fulfill our needs as an online clothing retailer with international reach from our headquarters in North Carolina. Application integration with our existing online real estate works like a charm and has positively impacted our bottom line."
With the power to turn 10 to 15% of website visitors into email subscribers, the 5-7X high conversion rate through Get-an-Email app can be attributed to website visitors feeling that they earned their coupon or another type of customizable incentive. ShopSocially is confident that it is giving eCommerce companies the capabilities to double email subscriber lists within months. The mobile friendly template driven apps match existing company branding perfectly and deliver powerful analytics and A/B testing options.
Life is Crap is also using ShopSocially's Refer-a-Friend app to convert visitors to the website into brand ambassadors. New visitors through these referrals can be converted at rates of up to 15%. After all, when your new clients love your products they enjoy sharing their good news with friends too via email and the most popular channels like Facebook and Twitter. This created a viral effect for Life is Crap with social media connections and generates referral sales. Imagine receiving averages of between 2 to 5 click-backs for every referral, reinforcing the influence of word of mouth marketing that has proven to be 7 times more effective than paid advertising.
"Here we have demonstrated another prime example of our suite of apps delivering results to e-Commerce firms that have instantly improved sales figures and CRM," said, Samir Palnitkar, President at ShopSocially. "The proof of lead value to Life Is Crap is part of our commitment to merchants to help them strengthen customer acquisition levels - immediately."
About Life is Crap:
Life is Crap was born in a pub in England after a snow storm meant the Founders were stranded in an international airport in Europe with 100,000 other passengers and couldn't get back to North Carolina, U.S.A. Since that experience, the company has adopted a universal cure to crappy situations - laughter and not taking yourself too seriously. Funny mantras are printed on t-shirts, sweatshirts, and hoodies. Visit: http://lifeiscrap.com/
About ShopSocially:
ShopSocially, Leveraging the Passion of Your Customers, is Software as a Service (SaaS) based social, referral and loyalty marketing platform delivering up to 40% more revenue by enabling increases in new customer acquisitions, engagement, conversion rates, and retention. More than 500 global brands currently use ShopSocially to grow their companies via proven strategies such as referral marketing, visual commerce, customer loyalty, social login, social gamification and customer questions and answers. This has led to ShopSocially becoming the world's most comprehensive platform for social, referral and loyalty results.
The ShopSocially platform offers a comprehensive suite of marketing solutions, eliminating the need to implement multiple, inconsistent solutions and delivers a measurable R.O.I. Our fully managed service option ensures no additional work for marketing or IT teams.
ShopSocially has been honored with several awards and recognitions for its innovative technology. To learn more about how ShopSocially can help grow your business, please contact us at (650) 701-7759 or visit our website: http://shopsocially.com/