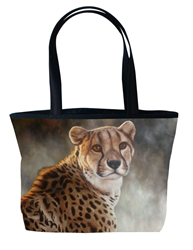 Altanta, GA (PRWEB) May 19, 2016
Salvador Kitti, a line of vibrant paintings and stylish wearable art, today launched its crowdfunding campaign on Kickstarter.
Salvador Kitti is dedicated to the important cause of saving animals. When artist Amy Pugh rescued a stray cat she never thought that animal would change her life's purpose in such a huge way. That cat had 5 kittens inside her Atlanta, GA home... one of them being Salvador, who immediately stood out for his curiosity with her artwork. Soon, Salvador started painting himself, dipping his paws in the paint and walking across the canvas. From here, Salvador Kitti was born.
Now you can carry these vibrant paintings wherever you go and support a great cause at the same time! From backpacks to pouches, wristlets and totes, Salvador Kitti has an amazing line of water resistant, microfiber vegan accessories that's purr-fect for the whole family!
A portion of all proceeds is donated to wildlife conservation projects including: The Loggerhead Marine Life Center, Turpentine Creek Wildlife Refuge, White Oak Conservation Center, Save the Manatees, Zoo Atlanta, Angels Amount U.S. Pet Rescue, Ching Farm Rescue and Sanctuary, Animal Defense League, Gentle Barn, Wildlife Weigh Station and The Cat House.
Amy has also just teamed up with the Cheetah Conservation Fund to create a line of beautifully crafted limited edition bags. The funds raised on Salvador Kitti's Kickstarter will help continue the mission of saving the glorious animals from extinction.
For more information and to preorder Salvador Kitti's limited edition cheetah totes, visit: https://www.kickstarter.com/projects/1326102913/salvador-kitti?ref=nav_search.
About the Artist behind Salvador Kitti:
Amy Pugh has been drawing animals before she could talk. She followed her passion throughout school and on her first day of class at Georgia State University, she learned her father had unexpectedly passed away. Amy took some time to explore artful expression. Her heartfelt emotions can be seen in all of her paintings now as she combines her curiosity for animals with her passion to save them. Each one of her paintings shows the deep emotions behind some of your favorite wild animals and pets. She believes each animal deserves to be seen for its inner and outer beauty.