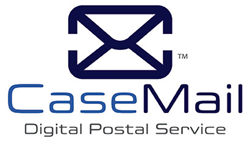 CaseMail does a tremendous job of efficiently managing our bankruptcy client's mailings across all District Courts. Thomas C. Rollins, Jr. of the The Rollins Law Firm
San Francisco, CA (PRWEB) May 19, 2016
CaseMail, the most advanced Bankruptcy Notice Management system, is now available nationally. Authorized by the U.S. COURTS to handle Bankruptcy notices in all United States Bankruptcy Courts, CaseMail users can send, track and verify delivery of their bankruptcy notices, proof of service, or any other legal document by way of U.S. Postal service or electronic delivery. CaseMail converts First-Class Mail, Certified Mail; FedEx and UPS Overnight Delivery into virtually a paperless process for attorneys while maintaining physical proof of postal delivery.
Bankruptcy notices sent via CaseMail are digitally encrypted then sent to their network of HIPPA compliant ePrint centers located across the country. These ePrint centers have a direct insertion into the U.S. Postal stream. Copies of mailed bankruptcy notices can simultaneously be electronically delivered to recipients as well.
CaseMail electronic to postal delivery saves legal professionals up to 60% on postage, mailing services and lost productivity.
While reducing costs are important, CEO Joe Ruiz likes to point out that Case Mail's true value is in risk management, "CaseMail is the only U.S. Court approved bankruptcy notice management system that gives attorneys the ability to manage both physical and electronic notices in real-time. Automated signed certificate of mailings and USPS Certified delivery confirmations are generated at the time of mailing and delivery. These receipts and signatures are electronically merged with copies of the mailed documents where they are achieved in the attorney's CaseMail account."
Consumer bankruptcy attorney Thomas C. Rollins, Jr. of the The Rollins Law Firm said, "CaseMail does a tremendous job of efficiently managing our bankruptcy client's mailings across all District Courts. CaseMail's ability to auto-record mailing activity and expenses directly in our practice management software saves my staff a ton of time freeing them for other important tasks."
About Us: CaseMail is a Digital Postal Service that designed to effortlessly send and manage bankruptcy notices. For more information, find CaseMail on the web at CaseMail.us or 800-778-3160.