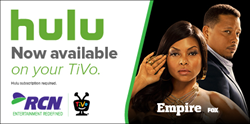 Integrating popular streaming services like Hulu into our suite of products allows instant access, convenience through one device, and a superior customer experience
PRINCETON, New Jersey (PRWEB) May 19, 2016
RCN and Grande Communications, both industry-leading providers of high-speed Internet, digital TV and phone services, announced today a partnership with Hulu to enable its customers to watch Hulu programming as a channel through the same set-top box used to watch Live TV. This is the latest update in the companies' ongoing commitment to innovation and customer convenience.
Previously, RCN and Grande were the first cable providers to integrate Netflix into the channel lineup. Since then, more than half of their customers have enabled streaming services like Netflix, YouTube & HBO GO on TiVo set-top boxes. This trend falls directly in line with recent industry research. Specifically, Horowitz Research found that 57% of TV content viewers subscribe to streaming video services as recorded by their National State of Cable & Digital Media 2016 study.
"In the last year alone, we've seen a 23 percent increase in activation of streaming services such as Netflix, HBO GO and YouTube through our TiVo set-top boxes and that number continues to rise," said Chris Fenger, Chief Operating Officer for RCN and Grande Communications. "On average customers consume 15 – 17 hours of content on just one of these services. These rising numbers consistently remind us that integrating popular streaming services into our suite of products allows instant access, convenience through one device, and a superior customer experience. We will continue to innovate in this arena to deliver what our customers want most."
The Hulu app is fully integrated, allowing Grande and RCN Digital TV customers with TiVo and a Hulu subscription to conveniently access Hulu's programming by simply clicking on the designated Hulu channel to launch the app. This integration eliminates the complexity of multiple boxes, remote controls and input ports and cables, while delivering a seamless and convenient viewing experience.
Pricing
Customers must subscribe separately to Grande Communications or RCN's Digital TV service powered by TiVo and have a subscription to Hulu. There are no additional Grande Communications or RCN charges to access Hulu beyond the monthly subscription fee.
Availability
The Hulu subscription service is available as early as May 18, 2016 to Grande Communications or RCN customers with Digital TV service powered by TiVo. Hulu can be found on channel 398 for Grande Communications. RCN customers can find Hulu by tuning to 449 (749 in the Lehigh Valley, PA).
Customers without a Hulu subscription can sign-up by visiting HuluOffer.com/RCN or HuluOffer.com/Grande.
###
Source: Horowitz National State of Cable & Digital Media 2016 Research Study
About RCN Corporation
RCN Telecom Services, LLC (http://www.rcn.com and http://www.rcn.com/business) provides industry-leading high-speed Internet, all-digital TV and phone services for residential, small/medium and Enterprise business customers. PC Magazine's Readers' Choice Award named RCN one of the winners for best ISPs in 2013 and 2015 – RCN was rated highest in overall satisfaction. RCN is YouTube HD Verified, earning the company the highest-ranking that Google offers. RCN is also a Netflix Open Connect partner, placing in the Top-10 rankings on the Netflix USA ISP Speed Index in the markets RCN serves. RCN's affordably priced advanced digital services are delivered through its proprietary, state-of-the-art fiber-rich network and supported by 100% U.S.-based customer service. RCN's primary service areas include Boston, Chicago, Lehigh Valley (PA), New York City, Philadelphia (Delaware County) and Washington, DC.
About Grande Communications, LLC
Grande Communications (http://www.mygrande.com) is a Texas-based broadband communications company that offers a full suite of Internet, TV, and phone services for residential and business customers through its state-of-the-art, high-capacity, hybrid fiber-optic network. Since its launch 15 years ago, Grande has offered Texans a real choice in entertainment and communications services plus outstanding local customer and technical support. Grande proudly serves the following communities: Austin, San Antonio, Dallas, San Marcos, Waco, Temple, Corpus Christi, Midland, and Odessa. For more information, visit mygrande.com, like Grande Communications on Facebook, or follow @grandecom on Twitter.
About Hulu
Hulu is a premium streaming TV destination that offers hundreds of thousands of hours of the best of current season programming, premium original content, films and full seasons of hit series to subscribers with limited commercials for $7.99 per month or commercial free for $11.99 per month. Hulu is the only streaming subscription service that offers current season content from 5 of the 6 largest U.S. broadcast networks. Since its launch in 2008, Hulu has been at the forefront of entertainment and technology and continues to redefine TV by connecting viewers with the stories they love.
RCN Media Contact:
Jackie Fraser, Matter Communications
Tel: 978.358.5840
Email: rcn(at)matternow(dot)com
Grande Communications Media Contact
Kris Ferraro, Giant Noise PR, email: Kris(at)giantnoise(dot)com
Elsa Morales, Giant Noise PR, email: Elsa(at)giantnoise(dot)com
Tel: 512-382-9017