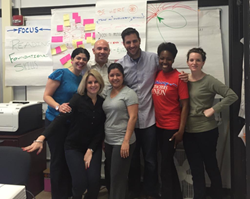 Cambridge, MA (PRWEB) May 20, 2016
The Data Wise Leadership Institute is being held online from August 1-5, 2016 and will be accepting applications through July 1.
"In a word, transformational!" – Rick Trujillo, Principal, James Monroe Elementary School, on Data Wise
Educators have an ever-increasing stream of data at their fingertips. But how can they use it to transform learning for all students? For over a decade, the Data Wise Project at the Harvard Graduate School of Education has been supporting teams in taking a step-by-step approach to collaborative improvement. "Collaboration is key," says Kathryn Boudett, lecturer on education and the project's director. "When educators learn how to work together to use data to improve practice, amazing things can happen."
A case in point comes out of Chicago. Educators at the city's James Monroe School transformed the way they look at data as a result of participating in the Data Wise Leadership Institute. Offered by Boudett and colleagues in both on-campus and online formats, the institute engages teams in intensive week in which they prepare to launch the 8-step Data Wise Improvement Process in their settings. Monroe Principal Rick Trujillo and his team first applied to the program hosted at Harvard, which was full. "I had attended the Data Wise Leadership Institute at Harvard a few times previously while working as a principal for another district," says Trujillo. "I found it to be one of the most challenging professional development programs that I've had the opportunity to take part in. Since the on-campus program was full, we were excited to work with Kathy and her team at Harvard to participate in the first online offering of the institute."
Trujillo soon realized that the online institute, which he and his colleagues could experience from the comfort of their own faculty room, provided some very real advantages. With an enrollment close to 1,000 students, Monroe has a large staff. Participating in the online institute, which has a lower tuition than the on-campus program and requires no airfare or lodging costs, allowed the school to train a critical mass of people who could then become champions for using data wisely throughout the school.
Under the leadership and guidance of Boudett and her colleagues, Trujillo and his diverse team of teachers and school leaders set out to create their own "sacred space" where they could experience the structured team time that is such a critical component of the Data Wise experience. On the first day of the institute they worked through a series of protocols that allowed them to set norms, understand one another's work style preferences, and overhaul their approach to team meetings. "The more you make that time sacred and make yourself vulnerable, the more you get out of it," says Trujillo.
As the week progressed, Rick saw the team transforming. Their space began to take on a life of its own with data charts, posters, and sticky notes covering the walls as they worked through the steps of the Data Wise process. "It has profoundly made us think about what we are doing as a school. It has changed how we look at data," says Trujillo.
The team had daily video conferences with Johanna Barmore, a Certified Data Wise Coach who who supported Monroe as they worked to integrate the process into their setting. Together with participating teams from other states, they also engaged with Boudett and the Harvard team in whole-group sessions that allowed them to see the successes and challenges that were common across teams.
By the end of the week, the team had come to a shared understanding about an important story that the data was telling, and a plan for engaging their broader school community in a process that would allow them to take deliberate action on a shared problem of practice.
"Rick's a collaborative person and it was inspiring to see how at a huge school like Monroe he was able to ignite, empower, and distribute leadership," says Boudett. The spirit of collaboration became infectious, and everyone wanted to be a part of the process. Team members felt adopting the Data Wise process changed their teaching practice. "It all becomes more relevant and you understand the importance of it in the profound work you do," says Trujillo.
Monroe Elementary School is rapidly on the rise, recently moving up two levels in the Chicago Public Schools performance ratings and running the highest levels of student attendance, parent feedback, and standardized test scores in the school's history.
Monroe's story is just one example of the many successes that Data Wise Leadership Institute participants have experienced in the ten years since the program first started. With the recent addition of the online format, educators worldwide can now take advantage of this intensive experience in the comfort of their own schools, allowing them to become energized about the work of student improvement while integrating Data Wise into their own unique cultures. Teams receive all of the materials needed for the week, including video lessons, meeting agendas, templates, and a complete schedule that includes live online sessions with Harvard faculty and a dedicated Data Wise coach.
The Data Wise Leadership Institute is being held online from August 1-5, 2016 and will be accepting applications through July 1. More information can be found through Professional Education at Harvard Graduate School of Education.