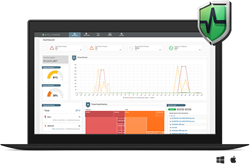 Cylance is dramatically more effective than traditional antivirus across all malware vectors.
St. Louis, MO (PRWEB) May 19, 2016
Netelligent Corporation, a leading technology solutions provider, announced today a partnership with Cylance® that will expand its security solutions portfolio. As Netelligent continues to build its security practice, Cylance will play a key role in the Netelligent Threat Kill Chain as it blocks threats in near real time with less impact on the resources.
"For security practitioners, securing the endpoint has been a futile exercise fraught with complexity, cost and management overhead. Cylance is dramatically more effective than traditional antivirus across all malware vectors and they do it simply, without signature files, anomaly detection or white lists; it is the most impactful technology in the security market today," Ryan Lally, director of business development for Netelligent. "We are excited to partner with Cylance and to share their products with our customers."
Cylance PROTECT provides more protection from threats using artificial intelligence against zero-day malware, malicious documents, system- and memory-based attacks, for example. Additionally, there's less impact overall to the organization as it boosts the efficiency with endpoint security products that use less than 1% of CPU, require no Internet connectivity or signature updates and use very little memory.
"We are excited to bring our innovative approach to malware protection to market with a partner like Netelligent," said Ryan Permeh, co-founder and Chief Scientist at Cylance Inc. "We designed CylancePROTECT to be the first and only next-gen security suite that can stand on its own technology and deliver true protection from attacker threats, which is what security teams need most today. It operates with and without cloud, with no need for daily signature updates, and offers great performance benefits in daily operations. Because it uses a predictive approach rather than a tired signature technology, it retains its effectiveness in the face of adversary advances, stopping not just the threats of today and yesterday, but the threats of tomorrow, as well."
Netelligent's partnership with Cylance gives customers another integrated security solution for advanced malware protection as it complements the Netelligent NetDefend™ managed security services offering.
About Netelligent Corporation
Netelligent is a technology solutions company. Netelligent provides companies with the basic technologies they need to run their business (phone system, servers/virtualization, disaster recovery, security, networking, and video). Our mission is to help elevate business above technology. We take a neutral approach in helping to determine what IT consumption model best benefits each client's organization (on-premises, managed, or cloud). Founded in 2003, Netelligent is headquartered in Chesterfield, Missouri and operates two data centers located in Colorado and Missouri. Netelligent is a Cisco Gold Partner and SOC II Certified. Additional information about Netelligent can be found on their website http://www.netelligent.com.
About Cylance Inc.
Cylance is the only company to offer a preventive cybersecurity solution that stops advanced threats and malware—before they can execute—at the most vulnerable point: the endpoint. Applying a revolutionary artificial intelligence approach, CylancePROTECT® analyzes the DNA of code prior to its execution to find and prevent threats others can't, while using a fraction of the system resources associated with antivirus and detect and respond solutions deployed in enterprises today. For more information visit: http://www.cylance.com