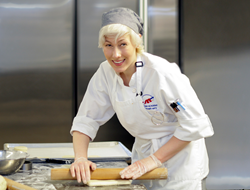 Local restauranteurs and chefs tell us they need culinary professionals who can prepare hot and cold desserts, artisan breads and doughs, and candies, truffles and chocolates. - Eileen Steffan, Vice President of Education
Pittsburgh, PA (PRWEB) May 19, 2016
The American Academy of Culinary Arts at PTI announces its new certificate program in Baking & Pastry, the latest culinary arts offering at the college's North Fayette Campus in Oakdale.
The nine-month evening program, which is slated to start classes in October 2016, focuses on the pastry training and baking traditions of France, Austria and Switzerland blended with contemporary American variations. Students will study the specialized, hand-crafted artistry and techniques for creating cakes, desserts, classic and artisan breads, fine chocolate, sugar confections, torten and gateaux.
Beyond the kitchen, students will acquire a range of business knowledge with coursework in purchasing and cost controls, sanitation and professional career development. The Baking & Pastry curriculum includes preparation for ServSafe certification, which is considered the gold standard for food-safety training by the National Restaurant Association.
Graduates of the AACA Baking & Pastry program will prepare for positions including baker, pastry chef, pastry sous chef, bakery assistant, cake designer, caterer and chocolatier.
According to Eileen Steffan, PTI's Vice President of Education, the local demand for pâtissiers and pâtissières is growing as the culinary scene expands in the Pittsburgh area. "One thing became very evident as we consulted with local restaurateurs and chefs," Steffan explained. "They are in dire need of culinary professionals who can prepare hot and cold desserts, artisan breads and doughs, and candies, truffles and chocolates."
The baking & pastry program was designed by Chef Director Norman P. Hart under the direction of academic chair Scott Domowicz with the expert guidance of culinary professionals and employers who have supported AACA since its grand opening on PTI's campus in August 2013.
"Our Career Services team fields calls from local establishments asking for pastry chefs," says Domowicz. "Soon we will be able to send them AACA graduates that specifically answer that call."
AACA students have the opportunity to study among the top chefs, restaurants, hotels and niche industries in Pittsburgh – a city that's recently earned such prestigious distinctions as Zagat's #1 Food City in the U.S. and recently acclaimed for its thriving food scene in the New York Times and Vogue.
Students will study under the direction of internationally acclaimed Chef Norman Peter Hart, a member of the American Culinary Federation and the exclusive Honorable Order of the Golden Toque. Chef Hart received L'Ordre Mondial des Gourmets Dégustateurs medal and La Confrérie de la Chaîne des Rôtisseurs des Etats Unis medal, both in Paris, France.
"I am delighted to introduce AACA's Baking & Pastry program to the City of Pittsburgh as it rises in popularity as a convention and tourist destination," Hart says. "Our heritage may be a melting pot of cultures, but our culinary scene continues to develop and evolve. I am excited that AACA will be able to bring new culinary confectioners and bakers to a city with a sweet future."
ABOUT the AMERICAN ACADEMY OF CULINARY ARTS
Offering a comprehensive program of culinary fundamentals and classical cuisine, the American Academy of Culinary Arts provides hands-on skills development in its Culinary Arts Center kitchens and dining lab. AACA, the culinary division of PTI's School of Hospitality and Culinary Arts, offers a Culinary Arts certificate, a Culinary Arts Associate in Science degree and a Baking & Pastry certificate. AACA students benefit from PTI's college-wide student services, campus events and wide range of activities as they prepare to become a great American chef.