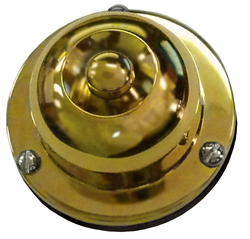 Bethel, CT (PRWEB) May 20, 2016
The highest quality weatherproof pushbutton available is the solid brass 65P, the replacement number for the discontinued Edwards 1786C-B pushbuttons. This all weather button is suitable for use in both outdoor and indoor applications and it's million dollar-looking polished finish matches its durability.
The 65P contains a neoprene diaphragm to protect the integral, long-life, and normally open silver contacts rated at 50V AC/DC @5amps. An additional back plate threaded for a 1/2" (13mm) conduit is included.
Paired up with our UL outdoor rated EN Series electric strikes for the best and longest lasting installations on gates and all exterior applications such as pools, marinas, and ocean environments. The EN is a workhorse of an electric strike that thrives in harsh conditions, just like the 65P.
The 65P is available now through current Trine distribution. For further information please go to the Trine Website. To find out where to purchase please email the factory: sales(at)trineonline.com or call at 203-730-1756
###