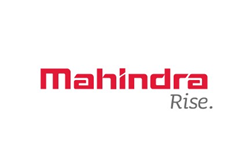 Through strategic investments in people, operations and quality products, backed by strong service and support, we are well positioned to continue this pace in the coming years." -- Mani Iyer, President & CEO, Mahindra North America.
Houston, TX (PRWEB) May 18, 2016
Mahindra North America begins a new fiscal year from a position of strength and with momentum. The fiscal year closed with a significant growth in annual revenue and business performance is on target to meet long-range goals. The company continues to outperform the industry by multiples in both tractor and utility vehicle sales. Supported by a strong dealer network as well as growing brand loyalty and awareness, Mahindra has secured a strong position in the 0-120 HP category of tractors and utility vehicles anchored by best-in-class products and services.
"We have experienced significant growth over the last several years and the trend continues as we look forward to a dynamic year ahead. Through strategic investments in people, operations and quality products, backed by strong service and support, we are well positioned to continue this pace in the coming years," said Mani Iyer, President & CEO, Mahindra North America. "The passionate, dedicated and hard-working Mahindra power of three: our partners/dealers, suppliers and colleagues, are to be commended for sustaining this tremendous growth and beyond."
Fiscal year 2016 was a year of expansion and innovation at Mahindra North America. At its Houston headquarters, the company tripled the size of its facility to support the growth of the parts business including the addition of an automated parts delivery system to increase response time and efficiency. The Mahindra dealer network is growing through both the addition of new dealers and the expansion of existing dealer businesses. To speed delivery time and for improved dealer service and training, Mahindra relocated and expanded its west coast assembly and distribution center to Marysville, California, and expanded the facility in Bloomsburg, Pennsylvania, serving its northeast dealer network.
"We employ alternative thinking to continue moving the business forward by growing and supporting a passionate, committed and driven dealer network. Mahindra's rise as the fastest growing tractor brand is fueled by the energy of our dealer network. We wouldn't be here without them," said Cleo Franklin, Vice President of Marketing and Strategic Planning, Mahindra North America. "We are fully invested and engaged in providing the products, services and support to grow our dealers' businesses in tandem with the growth of Mahindra."
New tractor models were launched to build out the Mahindra tractor product line-up. The 1526, 2538 and the eMAXS tractors offer industry-leading features and benefits at an unrivaled price point to handle our customers' toughest jobs. The 1526 tractors provide exceptional value in the below 26 HP category and the 2538 Tier IV line features a hydrostatic cab model that is unparalleled in its class. The eMax S tractors include four updated models with an all-new steel hood and fenders, stronger body and a unique cab model. All Mahindra tractors come standard with a five-year powertrain warranty supported by Mahindra, the number one selling tractor brand, by volume, in the world.
Following the successful 2015 launch of the Mahindra mPACT XTV®, seven additional models were added, expanding the product line to 13, including camo and long-bed cargo models. The mPact also offers the innovative FlexhaulerTM cargo space that transforms from flatbed to cargo hold for a variety of applications. The company also added to its implement portfolio with the introduction of its hay tool products.
For more information about becoming a Mahindra dealer and the full line of products, visit http://www.Mahindrausa.com.
About Mahindra North America
Mahindra North America (MNA) is part of the US $16.9 billion Mahindra Group's Automotive and Farm Sector - the number one selling tractor company in the world, based on volumes and the only tractor manufacturer in the world to win the industry's top two quality awards – the Deming Application Prize and the Japan Quality Medal, care of Union of Japanese Scientists and Engineers.
Houston, Texas, based Mahindra North America is a wholly owned subsidiary of Mahindra & Mahindra Ltd. and began selling tractors in the USA in 1994. MNA has since grown rapidly due to high customer satisfaction levels (97%) and strong customer referrals (98%). Mahindra NA now has five distribution points in North America to help meet the needs of its customers and the growing demand for its products.
Mahindra's professional-grade tractors range from 22 HP – 105HP with over 40 model offerings – and include the revolutionary Max and eMax series tractors. The Mahindra Max 24 leads the way in the sub-compact market and feature true tractor performance and capabilities. The Mahindra Max 24 is joined by the industry's first mid-compact tractor, the Mahindra Max 26 XL, which has compact tractor performance and versatility in a near compact tractor size.
All Mahindra Tractors are built with heavy-duty components that allow them to outperform other tractors in their class and are designed to provide consumers with the ability to push more, pull more and lift more, so they can do more, in less time. Combine the superior performance of a Mahindra and the peace of mind of a STANDARD 5 year limited powertrain warranty and you have a rugged workhorse at your disposal.
Mahindra entered the utility vehicle market in early 2015 with the introduction of the mPACT XTV series models designed to haul more, tow more and go more. These industry-redefining models are made in the US from the ground up and feature industry-leading hauling capacity, towing capacity and ground clearance, in addition, to a STANDARD 3 year limited powertrain warranty. The mPACT XTV series are available in 750cc gas and 1,000cc diesel versions.
To learn more about Mahindra North America, please visit http://www.mahindrausa.com.
To learn more about the Mahindra mPACT® XTVs, please visit http://www.mahindraxtv.com
About The Mahindra Group
The Mahindra Group focuses on enabling people to rise through solutions that power mobility, drive rural prosperity, enhance urban lifestyles and increase business efficiency.
A USD 16.9 billion multinational group based in Mumbai, India, Mahindra employs more than 200,000 people in over 100 countries. Mahindra operates in the key industries that drive economic growth, enjoying a leadership position in tractors, utility vehicles, information technology, financial services and vacation ownership. In addition, Mahindra enjoys a strong presence in the agribusiness, aerospace, components, consulting services, defence, energy, industrial equipment, logistics, real estate, retail, steel, commercial vehicles and two wheeler industries.
In 2014, Mahindra featured on the Forbes Global 2000, a comprehensive listing of the world's largest, most powerful public companies, as measured by revenue, profit, assets and market value. The Mahindra Group also received the Financial Times 'Boldness in Business' Award in the 'Emerging Markets' category in 2013. Visit us at http://www.mahindra.com