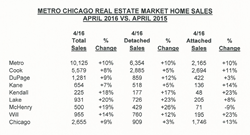 CHICAGO (PRWEB) May 20, 2016
After recording a modest first-quarter improvement, the metro Chicago housing market burst into bloom in April, RE/MAX reports. In the seven-county metro area, both the number of homes sold and the median home sales price were 10 percent higher than in April 2015. Sales totaled 10,125 units, and the median price was $230,500.
The increased sales activity occurred despite a notable decline in the inventory of homes for sale, which totaled 34,641 at month's end, 9 percent less than at the same time last year. Based on the pace of April sales, that inventory represents just a 3.4 month supply of homes.
The average time a home sold in April spent on the market before finding a buyer was 99 days, down from 105 days a year earlier.
The RE/MAX analysis is based on home sales data for the Illinois counties of Cook, DuPage, Kane, Kendall, Lake, McHenry and Will collected by MRED, the regional multiple listing service.
"Demand for homes across much of the metro area is strong, boosted by the lower interest rates for mortgages that we've seen this spring," said Jack Kreider, executive vice president and regional director of RE/MAX Northern Illinois. "April sales growth was particularly pronounced in the collar counties, where home prices generally have not fully recovered from the decline triggered by the Great Recession. It was good to see those home values make real strides toward recovery in April."
April also saw the percentage of total home sales involving foreclosures and short sales fall to 16.3 percent, the lowest level since RE/MAX began tracking these distressed
sales in 2009.
Kreider noted that while April home sales activity rose in all seven counties, the biggest gains were found in Kendall (up 18 percent), Lake (up 20 percent), McHenry (up 19 percent) and Will (up 14 percent). Sales were up 9 percent in DuPage, 8 percent in Cook and 7 percent in Kane, as well as 9 percent in Chicago.
Home prices were also up in all counties, but the pattern was somewhat different. The top gainers were Kane, up 21 percent, and Kendall, up 11 percent, with Cook and Will each up 10 percent. The median price also rose 7 percent in DuPage and 6 percent in Lake and McHenry. In Chicago the increase was 5 percent
Detached Homes
Across the metro area, sales of detached homes totaled 6,354 units, up 10 percent in April from their year-earlier level. The median sales price rose to $244,575, also a 10 percent gain. Average market time was 112 days, four days less than April 2015.
Sales of detached homes rose sharply in a number of the collar counties, but gained just 5 percent in Cook County and 3 percent in Chicago. Sales rose 23 percent in Lake, 26 percent in McHenry, 17 percent in Kendall and 12 percent in DuPage and Will. Kane County saw sales climb 5 percent.
As for the median sales price, Chicago led the way with a gain of 25 percent, and the median price rose 15 percent in all of Cook County. Other double-digit increases were 15 percent in Kane County, 13 percent in McHenry, 11 percent in Will and 10 percent in Kendall. The median price gained 5 percent in DuPage and less than 1 percent in Lake.
Attached Homes
In the attached-home category, April sales in the metro area climbed 10 percent to 3,771 units. The median sales price also advanced 10 percent to $204,000. Average market time was 79 days, compared to 85 days a year earlier.
The median sales price rose in all seven counties, while unit sales rose in six.
The median climbed 22 percent in Kane, 14 percent in Lake and Will, 7 percent in McHenry, 6 percent in Cook and 4 percent in DuPage and Kendall.
Sales activity was led by 23 percent increases in Will and Kendall. Other gainers were Kane, up 14 percent; Cook, up 11 percent; Lake, up 9 percent; and DuPage, up 3 percent. Sales fell 9 percent in McHenry. Sales in Chicago increased 13 percent and the median managed a 0.6 percent gain.
RE/MAX agents consistently rank among the most productive in the industry. In 2015, RE/MAX Northern Illinois agents averaged 18 transaction sides. RE/MAX has been the leader in the northern Illinois real estate market since 1989 and is continually growing. The RE/MAX Northern Illinois network, with headquarters in Elgin, Ill., consists of more than 2,250 sales associates and 106 independently owned and operated RE/MAX offices that provide a full range of residential and commercial brokerage services. Its mobile real estate app, available for download at http://www.illinoisproperty.com, provides comprehensive information about residential and commercial property for sale in the region. The northern Illinois network is part of RE/MAX, a global real estate organization with 104,000+ sales associates in 90+ nations.
####
EDITOR'S NOTE: RE/MAX® is a registered trademark. Please spell in all caps. Thank you. This release is posted at blog.illinoisproperty.com.