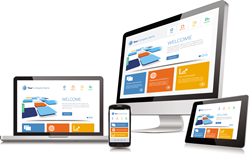 Where Creativity Connects.
Edmonton, Alberta (PRWEB) May 26, 2016
Canadian Web Design and Online Marketing Agencies are able to boost US business' success through real-time digital expertise, exchange rate cost effectiveness, easy communication, and duty-free services. Currently the US dollar can go a long way in the Canadian market. Many US businesses are cashing in by outsourcing their web design and online marketing to our friendly neighbors to the north!
Ted Halabi & Chad Thomas, Managing Partners at SOS Media Corp in Canada state, "There has been a surprising change in the amount of American companies inquiring about web design as the strong US dollar makes it very cost effective to get work done in Canada."
SOS Media Corp is a full-service, innovative marketing and design agency in Edmonton, Alberta, Canada. They specialize in Web Design, Social Media Marketing & Management, Corporate Branding, Graphic Design, SEO (Search Engine Optimization), and Media Buying. They are well-known for developing powerful marketing strategies for all methods of communication. No challenge is too big and no business is too small for the team at SOS! For more information, you can visit them online at http://www.sosmediacorp.com .
According to Chad Thomas of SOS Media Corp in Edmonton, Alberta there are a number of reasons that American companies are choosing to outsource to Canada instead of India or other countries.

At time of press release, the US dollar is worth $1.29 in Canada. With the extra money in your pocket from outsourcing your business to Canada, you can invest even more into your marketing plan, which could lead to even more conversions! If it interests you, the money you save could go towards taking a trip to the beautiful Rocky Mountains, to the refreshing Pacific Ocean, or along the vast Canadian prairies; the sky is the limit!
Outsourcing overseas is not ideal for communication. This can be attributed to a number of influences; namely, the language barriers and the time differences. With your business in Canada, you can be reassured that there will be clear verbal and written communication, no more than a few time zones away! You are more than welcome to give us a shout whenever you want to discuss your latest and greatest ideas.
NAFTA, the North American Free Trade Agreement, has been a large contributor to increases in trade and investment between the US and Canada. The consequential benefits of this include new business opportunities, strong partnerships, and increased conversions. Stay competitive in your industry by outsourcing your social media management needs to Canadian agencies that understand your market!
For all these reasons and more it is likely that American companies will continue to find new ways to leverage Canadian dollars to help their bottom line without loosing quality.
No matter if it is used cars, web design, or other services it looks like this is a trend that will continue while the US dollar remains strong against the Canadian dollar. In Chad Thomas's opinion "its a win-win for everybody".