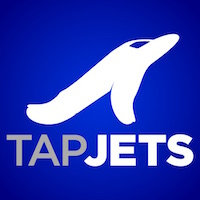 Personal Jet Service with Uber-like simplicity. Taking you from your door-step to your destination anywhere in the US.
FARGO, ND (PRWEB) May 18, 2016
TapJets Inc. has completed an air-carrier certification process by Federal Aviation Administration clearing the path to launch its industry-changing, jet charter service. Set to bring private aviation into the modern era of convenience and innovation, TapJets charges no extra fees and offers a mobile app to make jet charter service much more accessible than ever.
Using the newly released in TapJets mobile app (Available on Apple App Store), business and vacation travelers can book a personal jet in as much time as it takes to arrange any other type of on-demand transportation. As part of its standard service offerings, TapJets not only provides air travel based on a client's schedule but also arranges for rides to and from its reserved jets.
"Complexities of traveling on commercial air carriers are making private jet charter a reality for many more travelers," said Bob Klumb, Director of Operations at TapJets and former United Airlines Captain. Klumb added that the TapJets goal is to make it easy and convenient for more travelers to become regular users of jet charter services. "Our technology makes it simple to get where you need to go, and our fleet utilizes the fastest planes to get you there."
TapJets will initially include flights that depart within 500-mile radiuses of Fargo, ND, and Houston, TX, and travel anywhere within the United States. As the company continues to partner with other certified carriers, it will expand to other markets.
Discounts on basic hourly rates will be offered for frequent travelers, with VIP members enjoying priority scheduling and the option to select their preferred crew members.
TapJets also announced key hires for their operations management team which include the leaders from United Airlines and American Airlines.
"We hire only the best in order to keep our clients safe and comfortable," Klumb noted, "and all of our jets adhere to strict FAA guidelines. What's more, all of our pilot's train at the same facilities and use the same curriculum as the pilots at major airlines."
TapJets operates its own fleet of aircraft under an approved Safety Management Program designed to meet the requirements of the International Civil Aviation Organization. Extreme scrutiny is used to ensure that every TapJets jet meets the highest standards related to maintenance status, inspections, and overall performance.
About TapJets Inc.
TapJets Inc. was founded with the purpose of disrupting the private aviation space with the world's first "Hail-A-Jet" platform. TapJets travelers simply reserve private jets via a mobile app without having to pay membership fees, purchase long-time commitments, or pay for aircraft repositioning. With full FAA air carrier certification, TapJets is the first company that can instantly book, confirm, and fly its clients to their destinations. And it all starts with a tap on a smartphone. For more information, visit TapJets.com.