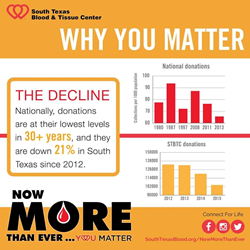 Elizabeth Waltman, chief operating officer, STBTC: "We want people to know the need is real and ongoing."
San Antonio, Texas (PRWEB) May 23, 2016
The need for blood donations in South Texas and across the nation is growing.
But according to an infographic released this week by the South Texas Blood & Tissue Center, blood donations are on the decline. In fact, donations across the country are at their lowest point in more than 30 years, and they are down 21 percent in South Texas in the last four years alone.
There is no substitute for blood.
"We want people to know the need is real and ongoing," said Elizabeth Waltman, chief operating officer of STBTC. "Blood is used in so many different kinds of therapies, and the patients needing blood depend on the generosity of the community to make lifesaving donations."
The infographic also shows that in an average year, 38 percent of the population of the United States is eligible to donate blood – but just 4 percent of the population actually makes a donation. These donors make possible more than 11 million blood components for patients every year, 300,000 of them in South Texas alone.
"Now more than ever, we need people to step up and give blood," Waltman said.
The largest percentage of red blood cell transfusions in a year are used in internal medicine, 28.5 percent. Another 19.2 percent go to cancer treatment, and 9.5 percent of the transfusions are for trauma cases.
Historically, blood collections go down during the summer decline because of vacations and because people are out of their normal routines. School-related drives cease during the summer. The emergence of Zika as a significant health risk is expected to reduce the number of eligible donors by an additional two percentage points.
The Zika virus, which can cause serious birth defects, is transmitted by mosquitoes, though sexual contact and via blood transfusions. Zika is being actively spread by mosquitoes in Mexico, Central America, the Caribbean and virtually all of South America.
STBTC already is asking donors who have traveled to countries where the virus is actively being spread by mosquitoes to delay their donations by 28 days once they return. And beginning July 1, STBTC will test all blood donations for Zika.
"If the health department identifies a mosquito transmitted case of Zika in our service before testing is in place, it could have a very serious impact on our ability to collect and provide blood throughout South Texas," said Dr. Samantha Gomez Ngamsuntikul, associate medical director at the South Texas Blood & Tissue Center.
Statistics for the infographic came from STBTC records and the AABB, the trade association for U.S. blood banks.
###
About BioBridge Global: BioBridge Global (BBG) is a San Antonio, Texas-based nonprofit corporation that offers diverse services through its subsidiaries – the South Texas Blood & Tissue Center, QualTex Laboratories, GenCure and the Blood & Tissue Center Foundation. BBG provides products and services in blood resource management, cellular therapy, donated umbilical cord blood and human tissue as well as testing of blood, plasma and tissue products for clients in the United States and worldwide. BBG is rooted in the South Texas Blood & Tissue Center, which has a proud history of serving the South Texas region and beyond for more than 40 years. BBG is committed to supporting groundbreaking research, addressing unmet clinical needs and enabling the development and commercialization of novel biotechnology products. For more information, visit BioBridgeGlobal.org.
About the South Texas Blood & Tissue Center: The South Texas Blood & Tissue Center (STBTC) is a nonprofit community blood center providing blood, plasma, platelets and other blood components to hospitals across 43 South Texas counties. STBTC has seven donor rooms in South Texas and conducts more than 2,000 mobile blood drives every year. For more information, visit SouthTexasBlood.org.