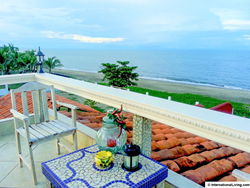 In many popular retirement destinations abroad, better weather, healthier food, cleaner air and water, and less stress add up to surprising benefits with little effort.
Baltimore, MD (PRWEB) May 23, 2016
When people consider retiring abroad, they most often cite as motivation the lower cost of living, escaping the worst of the North American winter, finding a more adventurous life, access to excellent, affordable healthcare.
But many expats report that, once abroad, they discover a benefit they hadn't considered in advance: a healthier lifestyle. In many of the world's best retirement havens, according to a new report from the editors at InternationalLiving.com, a healthier lifestyle comes naturally.
In many popular retirement destinations abroad, better weather, healthier food, cleaner air and water, and less stress add up to surprising benefits with little effort.
Warren Sklar weighed 350 pounds when he moved to Cotacachi, Ecuador. "After being here for a few months," he said, "I started to lose weight, because of walking everywhere and eating healthier with all the fresh produce. I lost 40 pounds without even trying."
Michael Griffin lost more than 55 pounds over three years in Ecuador due to the lifestyle changes. "A mango is fresh, not frozen or fried," he said. "I've learned to enjoy that." And he's given up the expense and stress of owning a car in favor of public transportation or his own two feet. "When you walk through town, you get exercise that you never would have gotten back home."
Before she moved to Nicaragua, Elizabeth Bastian's doctors put her on medications for cholesterol, blood pressure, asthma, and to thin her blood. "One by one, I chucked my meds because I felt so good in Nicaragua. Now I'm prescription-drug free and all my readings are normal," she said.
Pamela Wise got rid of her car when she moved to the beach town of San Juan del Sur. "I walk everywhere," she said. "I eat more fruits and veggies than I ever did back home, and much less processed food. There's almost no stress in my life now. I lost 30 pounds in less than one year without doing anything extra."
Armand and Joyclyn Brodeur said they dropped weight after they moved to Las Tablas, Panama. "And we're not even eating as healthy as we ought to," said Armand. Joyclyn said, "With the hot, sunny weather, we don't eat as much. I've dropped a whole size."
Steve and Pat Turney refer to Medellín as "a city with a built-in weight-management program," due to all the walking they do. As an added bonus, Steve is convinced that the fresh, non-radiated food he gets from the farmers' market has actually reduced his PSA level (and his likelihood of prostate cancer).
In Costa Rica, Robbie Felix found relief from the symptoms of her chronic lupus, including arthritis and skin allergies. "Since moving here I haven't had arthritis in years," Felix said. "The clean air in the rainforest, the ocean…it's like breathing medicine. I'm very healthy for someone with a chronic illness. I surf. I walk on the beach. I exercise."
These stories aren't unique… they're told by many expats enjoying healthier lives in some of the world's most beautiful cities and towns in the best overseas retirement destinations. A complete overview can be found here:"The Top Towns and Cities in Latin America for Healthy Living."
Editor's Note: Members of the media have permission to reproduce the article linked above once credit is given to InternationalLiving.com.
For information about InternationalLiving.com content republishing, source material or to book an interview with one of our experts, contact Associate Editor Carol Barron, 772-678-0287 (US), CBarron(at)InternationalLiving(dot)com or visit the Media Center.
For more than 35 years, InternationalLiving.com has been the leading authority for anyone looking for global retirement or relocation opportunities. Through its monthly magazine and related e-letters, extensive website, podcasts, online bookstore, and events held around the world, InternationalLiving.com provides information and services to help its readers live better, travel farther, have more fun, save more money, and find better business opportunities when they expand their world beyond their own shores. InternationalLiving.com has more than 200 correspondents traveling the globe, investigating the best opportunities for travel, retirement, real estate, and investment.