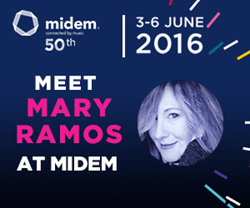 Appearing at MIDEM for the first time will be award winning music supervisor Mary Ramos, one of the most influential and experienced music supervisors in the motion picture business.
Toronto, Ontario (PRWEB) May 19, 2016
June 2016 is a major milestone date for MIDEM as it celebrates its 50th anniversary as the premier international music business trade show and conference held annually in Cannes, France. It will also be the third consecutive year that Canada's SynchAudio will have a high profile presence at MIDEM. SynchAudio and its CEO Farinoush Mostaghimi have been joining members of the international music industry as they gather on the shore of the Mediterranean to participate at MIDEM. Each year SynchAudio has increased its presence culminating in 2015 with Ms. Mostaghimi being recognized by media analysts The Media Shaker and Ekimetrics as the second "Top MIDEM Influencer" of the five leading participants at MIDEM. For MIDEM 2016, SynchAudio ups its game again by joining with MIDEM in presenting the award winning Hollywood Music Supervisor, Mary Ramos as a Keynote Speaker.
MIDEM AT 50
Since 1969 MIDEM has been holding music business court on the French Riviera also known as the Côte d'Azur, for the international music business. MIDEM, which celebrates its 50th anniversary in June 2016, has at once been both witness and participant in the evolution, disruptions and advancements that have impacted the global music industry. In fact it has been at the centre where many of those advancements and music trends have been spawned. It was at MIDEM in the late 1970's where disco music shot to the rest of the world when the movie Saturday Night Fever was premiered and projected over the Mediterranean to the attending international music contingent. For the next few years only music with a beat of 120 beats per minute would be heard a MIDEM. It was also around the same time that the first Sony Walkman became the tool for doing business at MIDEM. An audio cassette and headphones ruled. No longer did attendees have to carry bags or cases carrying vinyl discs. Things were changing and even more so when CD's were introduced to the world but always first to the broader industry from the floor of the Palais des Festival. Now at age 50 MIDEM has witnessed how digital has changed everything and how big data and algorithms are ruling the value chain, often more than the actual art of the music. And while music is being consumed more than ever before, the struggle continues for more equitable and efficient economic models that, like the Blockchain concept, might provide creators of music more of a reason to create and even survive. MIDEM continues to provide the forum for discussing and exploring solutions to the many challenges that are confronting the industry. MIDEM at 50 might say simply that: "We are all in this together and the challenges we are facing are owned by all of us."
MARY RAMOS
Appearing at MIDEM for the first time will be award winning music supervisor Mary Ramos, one of the most influential and experienced music supervisors in the motion picture business. Ms Ramos will appear as the keynote speaker in an interview setting on Saturday, June 4th. She will be interviewed by Music Week Magazine's Emmanuel Legrand.
Mary Ramos is an award winning music supervisor who has been working her craft of curating and creating music for screen based media for over twenty years. Among over a hundred movies, television shows and advertising commercials, she is especially renowned for her close collaboration with film director Quentin Tarantino having worked on all his 8 films including Pulp Fiction, Jackie Brown, Inglourious Basterds, Django Unchained, Kill Bill Vol. 1 and Kill Bill Vol. 2 and most currently The Hateful Eight. In 2015 she was also acclaimed for her work with director Tom McCarthy on his Academy Award winning film Spotlight.
SynchAudio is a Toronto based boutique media management & licensing company servicing screen-based media.
Contact for representation or licensing: submissions@synchaudio.com
Follow @SynchAudio for more music industry news and/or log on to synchaudio.com to preview our extensive catalogue.
#SynchAudio
May 18 - 2016
SynchAudio Editorial Team