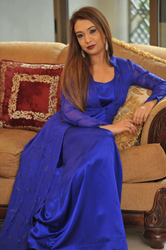 "Several of my designs have been presented at fund raising events in Dubai and Houston to raise funds for the (cancer treatment) hospital."
Houston, Texas (PRWEB) May 26, 2016
Fashion Designer Shehla Rana recently unveiled her latest collection, "The Burj Collection," inspired by her travels and time living in Dubai, United Arab Emirates. Shehla's collection was influenced by the Burj Khalifa, a luxurious icon and the world's tallest skyscraper made of glass and steel, surrounded by a pristine lake of tranquil tones of blue. The tower was inspired by the structure of the desert flower named as Hymenocallis and the shape of this flower can be seen in Shehla Rana's collection along with the cool aquatic colors and rich textures of silks and satins. This collection is as unique, elegant and one of a kind as its name with beautifully hand-crafted embellishments made with extraordinary detail by artisans in Dubai.
On April 30th, Shehla Rana hosted a Lunch and Launch, at The Houstonian Hotel, to present her collection for the first time to the ladies of Houston society. Included in the showcased collection were stunning two-piece Shantung silk jumpsuits adorned with embellishments, A-line swing dresses with spirited movement and long gowns suited for the finest galas including a faux backless look with hundreds of adornments that appear as "natural jewelry" for the wearer. Shehla Rana's designs were received with warm endorsements and loud applause. In past years, her collections have sold out and if this launch is any indicator, the fashion-set already has their eyes on these designer pieces that can be custom tailored to fit.
Plans for an upcoming Trunk Show are slated for Saturday, May 28th, from 11am to 3pm at Dolce Ave Boutique. Bubbles and Bites will be provided to guests as they have their first chance at trying on this exquisite collection for the first time.
Currently, the Burj Collection by Shehla Rana can be found exclusively at Dolce Ave Boutique, located at 7951 Katy Freeway, Suite C, Houston Texas 77024. (713) 876.0800. Open 11am-7pm Monday-Saturday.
About Shehla Rana: Shehla splits her time between living in Houston and Dubai; both are very unique cities with an eye for design and an appreciation for luxury. She is a graduate of The Art Institute with a degree in Fashion Design and has mentioned Giorgio Armani, Christian Dior and Versace as her personal fashion muses. She is a mother of two beautiful children, one daughter and one son, and a wife to an adoring husband. She is a woman with a generous heart. She also supports many charities in both Houston and Dubai, including one close to her heart. She states, "My mother passed away a few years ago due to cancer and I learned how good and timely treatment can make a difference in the life of a cancer patient. As we all know, cancer treatment can be expensive and is not always readily available. Therefore, my efforts have been to help promote cancer treatment awareness and raise funds for those in need. I have donated my designs to Texas Children's Hospital for their charity auctions to raise funds for cancer research. I regularly organize charity fashion shows and fund raisers for Shaukat Khanum Cancer Research Hospital which provides free cancer treatment to cancer patients in Pakistan. Several of my designs have been presented at fund raising events in Dubai and Houston to raise funds for the hospital."
NOTE TO MEDIA: Photographs from the Lunch and Launch by Sharon Dehkordi of Sharon Stars Photography. Photographs from fashion photoshoot by photographer, Quy Tran. High Resolution photos are available for publication by request. To schedule an interview with Shehla Rana, please contact Magan M. Hunt at 832.434.7931 or info(at)mmhmarketing(dot)com