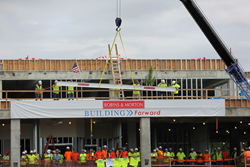 We are proud of achieving this important milestone
Tampa, FL (PRWEB) May 18, 2016
Florida Hospital Carrollwood met an important milestone in the hospital's three-year, $71 million expansion and renovation project with the celebration of the project's "Topping Out" today.
An event based in Scandinavian tradition, the "topping out" or "topping off" of a construction project celebrates placing the last beam in place on the structure. In keeping with honored tradition, the hospital and construction team from Robins & Morton said a blessing over the designated beam signed by all those in attendance today, and hoisted it high in the air – joined by a spruce tree and a large, American flag.
"We are very proud of achieving this important milestone," said Joe Johnson, Florida Hospital Carrollwood President & CEO. "Countless hands and thousands of hours have gotten us to this exciting point in our construction project, and from here the successful completion is well within our sights."
When the hospital's expansion and renovation project is completed in 2017, close to 100,000 square feet of space will be affected – including 55,245 square feet of new construction space and 61,621 square feet of renovated space.
"It is an honor for us to be part of a project that will so positively impact our community," said Todd Watson, Senior Project Manager for Robins & Morton.
Enhancements will include 11 new, state-of-the-art operating rooms, including the addition of a twelfth operating suite. Also part of the new construction space will be two interventional radiology/cath labs, along with infrastructure enhancements such as the addition of a new loading dock for the materials management department.
The hospital also recently opened a new surgical patient care unit in January of this year on the facility's fourth floor – part of the renovation focus of the project.
"When we open the doors to our new addition next year we will be even more prepared to care for the rapidly growing needs of our community," said Johnson. "Not only will we have more space, we will have the latest technology and ease of access for the Tampa Bay neighbors we serve."
About Florida Hospital Carrollwood
Florida Hospital Carrollwood is a 120-bed acute care facility that specializes in providing comprehensive medical services to community residents in the northern Tampa Bay region. Awarded by the Florida Hospital Association for Leadership in Quality and Patient Safety in 2014 and 2015, the hospital is a member of the West Florida Region of Florida Hospital and Adventist Health System. Florida Hospital Carrollwood offers exceptional spine, orthopedic and bariatric surgical services, as well as Emergency, Cardiology, and Wound Healing services in an environment focused on Christian compassion and an inspired approach to healthcare. For more information, please visit fhcarrollwood.org.