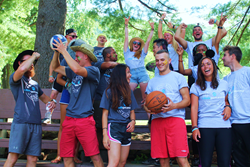 You can spend your day doing adventure activities such as our Aerial Park, zip lining, hiking, mountain biking, rock climbing, or sitting by our beautiful lake drinking margaritas
Kent. CT (PRWEB) June 02, 2016
The East Coast's premier Summer Camp for "Grown Ups", Club Getaway, kicks off its 40th year celebration.
Tucked away in the lush wooded Berkshire Mountains of Kent, Connecticut, Club Getaway is an all-inclusive Camp for Grown Ups. Campers are encouraged to explore and engage in over one hundred activities that span across 300-acres overlooking a large spring fed lake. From hiking, mountain biking, rock climbing or swinging on the trapeze, to a keg crawl through the woods, leisurely lounging by the lake, or dancing at the silent disco, Club Getaway allows campers to customize their experience. Each session accommodates 300 fun loving campers. Campers come as young as 21 and as young at heart as age 65. The average age of Club Getaway campers' is 33. There are special sessions dedicated to certain age groups and interests.
"You can spend your day doing adventure activities such as our Aerial Park, zip lining, hiking, mountain biking, rock climbing, or sitting by our beautiful lake drinking margaritas," said David Schreiber, chief Adventure Officer of Club Getaway. "When night comes, we have fantastic bands, some of the hottest DJs, karaoke and dueling pianos. At Club Getaway you can GET OUT AND PLAY."
This year Club Getaway will be celebrating its 40th year. "In the past 40 years, Club Getaway has engaged over 1.5 million campers in our fun and unique programming. We have facilitated and infinite amount of social networks of friends and have been the catalyst for tens of thousands of couples and marriages. Club Getaway is about fun, nostalgia, and rediscovering the carefree part of youth."
Adult campers can re-live their favorite memories from the past or make new ones. Sleeping arrangements include spacious, rustic furnished cabins equipped with air conditioning, private bathrooms, and daily housekeeping. Meals are not your typical camp food of Sloppy Joes and Hotdogs. Prepared courtesy of chefs and instructors from the Culinary Institute of America, and the Connecticut Culinary Institute. The gourmet meals consist of themed Lobster Bake Dinners, and Breakfast in Paris.
"Club Getaway's 40th year celebration is about celebrating the present. Camp for Grown Ups has never been more relevant than right now. The Club Getaway experience is about taking a pause from our hectic lives, being 100% engaged in the present and creating those magical moments and memories that we will forever hold on to."
About Club Getaway:
Club Getaway is a Kent, Connecticut based company that offers weekend vacations for summer travelers. Since 1976, Club Getaway has consistently provided life-changing experiences for its attendees. The Club specializes in camps, sports and adventure programs, weddings, and corporate events. Weekend packages are available for purchase now with rates beginning at $449. Price varies on date, beginning Memorial Day weekend until Mid October. Don't miss the chance to create your own story! To book your trip, please visit http://www.clubgetaway.com