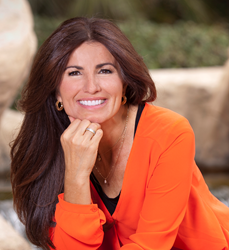 Living authentically by expressing our character strengths is a powerful way to relax and enable flow. ~ Fatima Doman
Las Vegas, NV (PRWEB) May 24, 2016
Author & CEO, Fatima Doman joyously releases her new book, "Authentic Strengths" through Next Century Publishing, today.
In her book, "Authentic Strengths", Fatima reminds readers that just as jewelers spot diamonds in the rough, anyone is capable of unlocking the exponential greatness that lies within them. Drawing on the best from the science of positive psychology, and from her two decades of experience coaching and training executives around the world, Doman has created a three-step coaching program that can transform a dedicated learner into a star performer. Whether coaching oneself or others, "Authentic Strengths" will equip readers with the tools to bring out the best in themselves and in those they influence. Readers will learn the tools designed to explore, empower and engage their strengths – all while honoring the strengths they see in others. This focus on strengths is the key to human motivation and improved relationships.
As a refugee from Angola's War of Independence, Fatima Doman's family fled a comfortable life to subsist within a blue-collar safety offered in the United States. The change in social and economic status was demoralizing for both of her parents and growing up optimistic in that environment proved a challenge.
"Today, I remember those times with deep emotion and pride – my hard-working mother doing her best to raise five kids and put food on the table." Inspired by her parents' struggles, Fatima began to live as though it were possible to forge a life separated from the circumstances she had been born into - a life of optimism and personal empowerment.
The goal of Fatima's company, Authentic Strengths Advantage® (ASA), is clear – to provide people with the tools to successfully cultivate and use their character strengths, personally and professionally, to create positive, measurable and sustainable results. By delivering transformational, evidence-based coaching and training, ASA strives to maximize their clients' contributions and fulfillment both at work and in life.
"A remarkable contribution to the fields of positive psychology, coaching, and leadership. Applying the principles in this book with help readers discover and leverage their strengths, improve their relationships, fulfill their potential - and help others do the same!" - Stephen M. R. Covey, #1 Best-selling Author, The Speed of Trust and Smart Trust
For more information on "Authentic Strengths" and where you can get your copy, be sure to visit any of these fine retailers: Amazon, Barnes & Noble, Reader's Legacy
About Fatima Doman:
Founder and CEO of Authentic Strengths Advantage®, Author and Executive Coach, Fatima Doman, shares insights from her extensive experience, having worked successfully with Fortune 100 and Fortune 500 companies representing a variety of industries around the world. Drawing on groundbreaking research in the fields of positive psychology and neuroscience, she reveals pathways to improving human performance and relationships. Fatima demonstrates that engaging your strengths, while appreciating strengths in others, boosts emotional intelligence and dramatically transforms effectiveness at work and in life. She is passionate about coaching people to measurably succeed by discovering and leveraging their authentic character strengths. Fatima served as Co-founder and Co-director of Franklin Covey's Global Executive Coaching Practice, and holds the Advanced Executive Coaching Certification from the Columbia University Coaching Program. She has appeared as an expert coach on television and radio.
About Next Century Publishing (NCP):
Next Century Publishing is a hybrid publishing company that has carved out a niche by offering a wide variety of publishing services to its clients. At NCP, the authors' needs and desires for their books are evaluated, and the appropriate publishing packages are then suggested to them. From simple E-book publishing to traditional trade publishing, NCP does it all. NCP's revenues have grown by over 200% in each of the past 3 years. With offices in Las Vegas, Toronto and Panama, the company is now prepared for another year of triple-digit growth.
Media inquiries: Carolyn Brandon (702)912-2405 Carolyn(at)NextCenturyPublishing(dot)com