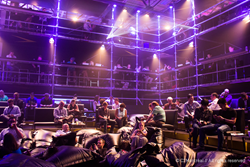 Dallas, Texas (PRWEB) May 19, 2016
Fatboy® USA is thrilled to announce its fifth year participation as an official partner for the C2 Montréal conference taking place May 24 –26, 2016 in Montréal, Canada near historic Griffintown district. C2 Montréal is a three-day, highly-specialized international business conference that transforms the relationship between creativity and business and its potential to alter the way leaders work. The theme for this year's conference is "The Many" that will explore how business is shifting away from the corporate few and into the hands of the many leaders who collaborate, grow, and learn together.
This year, Fatboy will construct uniquely designed meeting and lounging areas with remarkable lifestyle products including Fatboy® Original Stonewashed beanbag lounge chairs, colorfully patterned Fatboy® Non-flying and Flying carpets, Fatboy® Headdemocks for maximum relaxation and the latest unique collection the Lamzac the original by Fatboy® to spark creativity, conversation and inspiration for business leaders throughout the village.
"I believe C2 Montréal will once again inspire business leaders to take risks and modify their organizational standards in challenging ways that will create a better future for their company and employees," said Paula Masters, President and CEO of Fatboy USA. "Attaining creativity on a personal and organizational level in a world that revolves around innovation and change is extremely important. Fatboy is about creating those unforgettable experiences with rich and inviting lifestyle products. We like to say that we are the story creators rather than the storytellers and are thrilled to be part of creating unforgettable moments at C2."
Prolific speakers including Martha Stewart, Etsy CEO Chad Dickerson, Head of Global Hospitality & Strategy of Airbnb Chip Conley, world renowned chef Massimo Bottura and COO of Shopify Harley Finkelstein are just a few to name that will provide challenging demonstrations and spark conversation. Specifically this year, C2 Montréal will explore how inspiration is shifting to consumers, entrepreneurs and bold organizations who are willing to dive into collaboration aligning with "The Many" theme for this year.
"We are excited to partner once again with Fatboy at C2 Montréal for our 5th edition where their original and unique designs will contribute to an atmosphere of creativity that is synonymous with the experience we offer to our participants," said Genifere Legrand, Vice-President of Creation at C2 Montréal. "We take great care in designing a C2 Village that will enable participants to be their most creative and also have a moment or two to unplug, chilling in a lounge and network. Design is at the heart with so many activities throughout the three-day event, the Fatboy lounge areas will allow everyone imaginative respites to continue."
To learn more about this exciting and collaborative conference please visit: https://c2montreal.com/. If you'd like more information about Fatboy® USA and its products, please visit fatboyusa.com and facebook.com/FatboyUSA or e-mail info(at)fatboyusa(dot)com.
About Fatboy®
Fatboy® USA is an imaginative lifestyle brand that excels in thinking outside the box. Fatboy® USA has been challenging the concepts of lifestyle product since 2002, when it set out to create the perfect lounge chair— designed for fashion, for comfort, and tailored for an unmatched lounging experience The Fatboy® USA brand identity is anchored in iconic European design mixed with a creative twist that extends to all their product offerings. They create iconic lifestyle products with a simple yet compelling idea reflected in their tagline, Deleting Dull. Their tagline aligns with what has remained the core of the Fatboy® USA brand philosophy from birth, which is to design captivating product to evoke an authentic change in people's minds for the better through the experience they have with their lifestyle product.
About C2 Montréal
Each year, in a collaborative environment specifically designed to provoke collisions and spark new ideas, the C2 Montréal inspires 5,000 decision makers across continents and industries to challenge their biases, shift their perspective and explore completely new ways of doing business. Imagined by Sid Lee in collaboration with founding partner Cirque du Soleil, these three days of talks, workshops, extreme brainstorming sessions, meet ups, performances and festivities have been described as "challenging conventions" by The Economist, "The Davos of Creativity" by OBS, and "a business conference unlike any other" by Harvard Business Review.
C2 Montréal will be presenting its 5th edition on May 24, 25 and 26, 2016, at the Arsenal.
# # #