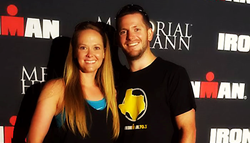 Swim 2.4 miles! Bike 112 miles! Run 26.2 miles! Brag for the rest of your life!"
Houston, TX (PRWEB) May 19, 2016
Custom Air Products & Services, Inc. (CAPS), a leading commercial and industrial heating, ventilation and air conditioning (HVAC) company based in Houston, Texas (US) is proud to recognize employees Branden McCormick and Alicia Scott for completing the IRONMAN Texas North American Championship course and earning their IRONMAN designations.
The Ironman Triathlon involves three separate races, run back-to-back without a break, and is considered one of the most difficult one-day sporting events in the world. The first race is a 2.4 mile (3.9 km) swim and has a mandatory cut off time of 2 hours and 20 minutes. The second race is a 112 mile (180.3 km) bike ride with a cut off time of 8 hours and 10 minutes. The third and final race is a 26.2 mile (42.2 km) full marathon with a cut off time of 6 hours and 30 minutes. Any participant who manages to complete the event within these timings becomes an Ironman.
Alicia Scott is our Human Resources and Payroll Manager, and Branden McCormick is one of our Project Managers. For 6 months they have been initiating, planning, executing, and monitoring and controlling this project on a grand scale. And last week they moved into the closing phase and accomplished, with a great deal of flourish, the final project requirements. They became Ironmen.
On February 18, 1978, the original IRONMAN challenge was held in Waikiki, Hawaii. Prior to the race, each of the 15 competitors received three sheets of paper with rules and a course description. The last page read: "Swim 2.4 miles! Bike 112 miles! Run 26.2 miles! Brag for the rest of your life!"
Branden and Alicia definitely earned their bragging rights.
"We are tremendously proud of these two employees and their accomplishments," said CAPS CEO Taylor Norris. "Even though this effort was not part of their work activities, by participating in the event they demonstrated leadership, commitment, project management expertise, dedication to a goal, and performed a flawless execution right up to the finish."
From the very start of the project Branden and Alicia had a detailed and organized plan. They had to account for the fact that they would have to work the plan outside of their full-time employment activities, that they would have to adjust for and perhaps forgo some social and familial activities, and that the unpredictable Houston weather was an unknown but ever-present factor that they would continuously be required to deal with. As with almost all projects, the plan had to be modified along the way, not only to manage the risks as they materialized, but also to manage the changes that were required as the training progressed and Alicia and Branden's project knowledge grew.
Because many of their activities were coordinated with a larger group of individuals working toward the same goals, planning and coordinating schedules, participating in regular preparatory activities, attending regular events, and managing physical stresses that ensued also added to the project's complexity, As the project neared completion, their professionalism and many of the organizational aspects of their plan became evident to all around them, even those with no actual part in the project. Co-workers report that their enthusiasm for the project was infectious. These two athletes were clearly demonstrating the value of planning the work then working the plan.
"Watching these two individuals and their accomplishments also became a source of pride for our organization," stated co-worker and fan Bea Amaya. "And watching the project come to a close, with fully successful deliverables, was an activity that we all felt compelled to celebrate with them. Although the primary work of the project occurred outside the confines of our business activities, the project was visible to and, to some extent or another, had a positive impact on us all."
About Custom Air Products & Services
Custom Air Products & Services, Inc. is a full-service HVAC company that specializes in the design, construction, installation, modification, and servicing of industrial and commercial air conditioning equipment. CAPS employees are committed to providing exceptional custom design and quality workmanship at competitive prices.
Custom Air Products & Services currently occupies five (5) modern facilities, totaling 200,000 square feet in size. These buildings include administrative and engineering offices, training facilities, a filter warehouse, and service shops for fabrication, manufacturing, and modifications. CAPS services are provided to customers throughout the United States and Mexico while their manufactured products have been delivered to sites around the world. Currently CAPS has equipment operating on six (6) continents and in 52 countries.