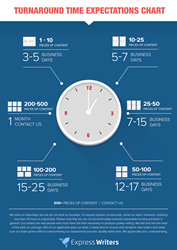 We now utilize a system of checklists that ensures the best possible content quality for each client. Not only that, but it will match exactly what every one of our clients need in terms of deliverable, tone of voice and necessary writing adaptations.
AUSTIN, Texas (PRWEB) May 19, 2016
Express Writers is pleased to announce several major changes this May, which will increase overall quality in its content deliverables. Changes include the addition of four new staff members since early May, along with the creation of a new staff role, and the introduction of a clear and concise turnaround expectations chart for clients. Some of these alterations are occurring due to recent discoveries.
After conducting a business audit earlier this month, Julia McCoy, CEO of Express Writers, discovered that the company's two managers were dropping quality standards across the board and maintaining a lack of professionalism toward both its clients and writer base. These managers have been terminated and the company is moving forward with new staff members.
In early May, McCoy developed a new staff process of content reviewing and has hired a brand new expert editorial staff, with proprietary internal guidelines for the new editors. All Express Writers editors will now utilize a four-step checklist to review content orders before delivery. The originality and uniqueness of the content, how well the content matches the client's directives and necessary tone, fact-checking, and the overall grammar are checked, among other things. The new review process ensures that the writer receives the best constructive criticism possible so they can grow in their talents and expertise.
"We noticed that after an audit from our staff editors, our content was actually more harmed than helped across the board; something of a too-many-cooks-in-the-kitchen situation," explained Julia McCoy. "We've already witnessed huge benefits from replacing the typical, non-directed editing with the new review process. While general editing can be helpful, it is not as targeted and directed for the client's content as it should be. We now utilize a system of checklists that ensures the best possible content quality for each client. Not only that, but it will match exactly what the client needs in terms of deliverable, tone of voice and necessary writing adaptations for the client's specific content order. Our new staff include two expert Senior Editors, which we're happy to have onboard."
A major addition to Express Writers this month as well is the new turnaround time expectations chart, which sets clear expectations concerning when clients can expect to have content delivered to them. For the past several years, the previous managers pushed deadlines and caused every writer to deliver work as quickly as possible. This is no longer the practice for any serious-minded online content provider. McCoy says that the new deadline expectations will be a game changer for both writer retention and overall quality. She explains, "Writing is a skill that simply requires time. You cannot force it in a few hours; it's an art and a human-based creation. We don't use machines over here that simply spin out your content in a matter of hours. So, we've sat down with our content management team and figured out the best possible turnaround times that are within reason and we want to be very transparent about the time it takes to create quality content. These time frames are very reasonable." The new timetable chart can be viewed here.
Express Writer's new Content Manager is Katria Petroff, a former editor at the company. She earned her Bachelor's degree in English with an emphasis on rhetorical theory from Texas State University. She loves to read and write and she is passionate about all things literature. In her new role, Petroff now handles matching up projects with best-fit writers, bringing in new talents, and making sure clients receive their content. Heather LaVine, a well-rounded writing expert, joins Express Writers' ranks as a Senior Editor. As a freelance writing expert since 2005, she has edited thousands of content types with a long history of success. Hannah Stephey is the second Senior Editor at Express Writers, BFA in Writing and Illustration, and over five years of experience in web copy-editing. Brannon Powers also joins the team as a Chief Creative Officer, handling live chat and email. Powers has had a long history in online marketing and consulting, as well as great customer service.
Express Writers is working on more big things in the near future. "This year, we're also about to launch a brand new, custom-built team room platform for our writers, as well as a reinvented ecommerce system to handle our clienteles' ordering process more efficiently," says McCoy.
To order custom, high-quality blog or web content from Express Writers, visit its online Content Shop.
About Express Writers:
Since 2011, Express Writers has delivered well-written content for businesses globally. With a team of more than 60 copywriters, content strategists and social media writers, the online content provider creates writings for every type of project, including press releases, blog posts, web pages, cover letters, scripts and more. The experienced management team matches each project with a best-fit writer and examines every piece with quality checks before delivering. Visit https://expresswriters.com/ to learn more.