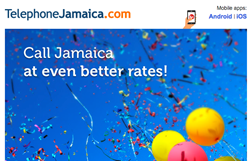 Atlanta, Georgia (PRWEB) May 21, 2016
TelephoneJamaica.com encourages family and friends relationships, which should remain strong no matter the distance that may separate people as years go by. As a token of appreciation for all those great Jamaican families with members living on different continents, TelephoneJamaica.com lowers the rates for international calls to Jamaica by up to 40%.
Thus, the rates for calling landlines in Jamaica decreased from 13.9¢/min to 9.9¢/min, whereas the rates for calling mobiles in Jamaica decreased from 19.9¢/min to 17.9¢/min. This can only mean two things, both of them good: either savings on international calls to Jamaica or longer phone conversations with the loved ones still living in Jamaica. For example prior to the rate decrease, $10 offered customers 71 min, while now customers can talk for 1 hour and a half (101 min) for the same amount.
The Voice Credit purchased can be used to place international calls from:
1. any phone through the use of access numbers,
2. from any computer with an Internet connection through the Web Call application or
3. from any smartphone as TelephoneJamaica.com offers a free app, for both iOS and Android devices, called KeepCalling. By using the free app, customers can make calls by using their phone contacts as long as they are saved in international format.
Besides the Voice Credit service, TelephoneJamaica.com also offers Mobile Recharge, a service through which customers can recharge mobile phones anywhere in the world. The process is fast and secure and the credit reaches its destination instantly. The mobile operators available for recharges to Jamaica are Digicel and Lime.
The mission of TelephoneJamaica.com is to bring people together, no matter the distance, because no distance is too long if people stay connected. That's why all the services TelephoneJamaica.com offers are a great solution for keeping a close relationship with everyone living back home in Jamaica.
This is mainly due to:
the customer-focused approach, based on safe and easy to use services
the frequent special offers: bonuses on international top ups or discounts on international calls
the great Customer Service available 24/7, both in English and Spanish.
Customers are happy about the low rates and high quality of the service. One of them says "Best site ever! I came upon this site Telephone Jamaica by just browsing and decided to try it glad I did it is hassle free and transfer is sent in minutes I'll always use it."
About TelephoneJamaica.com:
TelephoneJamaica.com is an interactive website designed by KeepCalling, a global telecommunications company registered in 2002 in USA. Presently, KeepCalling provides its services to hundreds of thousands of consumers and businesses, with a focus on customer satisfaction. KeepCalling has been listed by Inc 5000 as one of the fastest growing companies in the USA for 5 consecutive years. In 2015 the company registered a revenue increase of over 200% from 2011 to 2014.