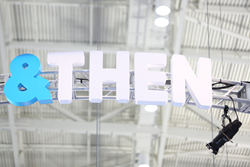 DMA and &THEN are bringing together these remarkable leaders to inspire today's data-driven marketers who leverage data, technology and creativity to develop lasting relationships with consumers based on truth, trust and results.
NEW YORK (PRWEB) May 19, 2016
Bringing together the science of data-driven marketing with the creativity of emotional advertising, DMA's &THEN at L.A. Live is assembling the top leaders and innovators in data, marketing and advertising including GE's Vice Chair and Hulu Co-Founder Beth Comstock, 17-time NBA All-Star Kobe Bryant, author and speaker Simon Sinek and six-time Platinum rock band Third Eye Blind. For the second year in a row, &THEN will be hosted by American television host, author, motivational speaker and CNN commentator Mel Robbins.
"Whether it's in the arena or the boardroom, &THEN's Inspiration Speakers are fearless game-changers who represent the best-of-the-best within their professions," said DMA CEO Tom Benton. "DMA and &THEN are bringing together these remarkable leaders to inspire today's data-driven marketers who leverage data, technology and creativity to develop lasting relationships with consumers based on truth, trust and results."
Set in Los Angeles, the creative economy capital of the U.S. and a global powerhouse for entertainment, gaming, marketing and technology, &THEN is more than a conference. At DMA's reinvented annual event, the world's data-driven marketers discover new and innovative ways to better understand and communicate with their customers through curated learning opportunities, exposure to leading solution providers and the opportunity to network and connect with their fellow data experts and marketers from around the globe.
Through nearly 150 educational sessions, attendees will benefit from a series of interactive workshops, how-to's and exhibitions that showcase disruptive start-ups, break-through technologies and networking for empirically-focused marketers who use data and creativity to make closer connections with their customers. &THEN's educational sessions to boost skills in content and creation, data and analytics, customer engagement, strategy, branding and marketing technology (and more)—all delivered by today's leading marketers. Executives leading &THEN insight sessions hail from the most pioneering and regarded brands, including Twitter, Google, GM, Time Warner Cable, Live Nation, Wunderman, Harvard Business School, Shinola, Hershey, Anheuser-Busch, Citi, Discovery Channel and many more.
In the &THEN Experience Zone, hundreds of advanced solution providers will display the technologies and services that are revolutionizing marketing, including data services, augmented reality, virtual reality, and digital marketing platforms. Another feature of the Experience Zone is DMA's highly successful startup competition, the HOT ZONE. Launched in 2015, the HOT ZONE is a curated and judged competition for early-stage adtech and martech startups. After a nationwide competition, 15-20 martech and adtech startups are selected by industry judges to exhibit in front of thousands of potential customers, with five finalists delivering a live, on-stage "Shark Tank-style" pitch on October 18th for high-value prizes.
With a passion to help attendees experience unparalleled networking, DMA's &THEN attracts marketers from around the globe in an environment that fosters creativity and connection, nurturing the exchange of ideas that propels the marketing industry forward. At the opening Regiception on Sunday, October 16, attendees will mingle and enjoy food, drink and live music – a refreshing alternative to typical conferences where they stand in registration lines. Throughout the three-day live event, DMA's Communities will host events tailored to specific marketing sectors, including analytics, integrated marketing and data. &THEN will also welcome international delegates from more than 20 global associations that comprise the GDMA – the Global Alliance of DMAs, which holds it Bi-Annual Meeting at &THEN.
"Just as DMA and its membership represent the entire marketing ecosystem, so does &THEN," said DMA VP of Conferences & Events Paul McDonnough. "From brand marketers and agencies to adtech service providers and startups, the speakers, attendees and exhibitors joining DMA at L.A. Live in Los Angeles represent the range of companies working to propel the practice of marketing forward. Through partnership with leading DMA member companies, &THEN programming is crafted and curated to foster a collaborative learning and networking environment, all geared toward improving the ability of &THEN attendees to reach their customers effectively and efficiently."
For information on press registration, contact Mike Uehlein through the DMA Media Center.
About &THEN, The DMA Annual Event:
&THEN, the reinvented DMA annual event, is the largest global event that unites the marketing community – the people who think, plan and do what it takes to succeed. &THEN takes place in Los Angeles, CA at the L.A. Live complex from October 16-18, 2016.
About DMA (http://www.thedma.org): Founded in 1917, DMA is the world's largest trade association dedicated to advancing and protecting responsible data-driven marketing and the use of data for good. DMA's membership is a deep pool of data and marketing talent that routinely brings forward disruptive technology and techniques, and DMA's unique role in representing both the client-side and supply-side enables it to develop the market for these innovations.
DMA's advocacy program ensures marketers' ability to responsibly gather and process or refine detailed data. DMA's market-driven educational offerings equip its members to stay ahead of the curve of rapid changes in thought leadership and best practices. DMA's events and communities provide numerous opportunities for today's marketers – from brands, agencies and solution providers – to connect in-person and online to grow their business and their careers. DMA's signature event, &THEN, is the largest global event for data-driven marketing and attracts top marketing and advertising leaders and practitioners from around the world.