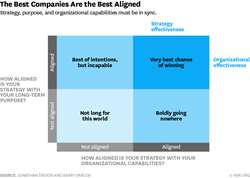 Business strategy receives the lion's share of attention from senior executives. But it is not enough to have a winning strategy alone.
Oxford (PRWEB UK) 19 May 2016
One question that challenges all business leaders – from multinationals to small scale start-ups is how to create and sustain a winning organisation. The key, according to new research from Jonathan Trevor, Associate Professor of Management Practice at Saïd Business School, University of Oxford is to ensure the company is strategically aligned – arranging all elements of an organisation to optimally support the fulfilment of its long-term purpose.
Working alongside Barry Varcoe, Global Head of Group Services in Group Operations and Technology at Zurich Insurance Group, Professor Trevor found that strategically aligned organisations are higher performing and better capable of achieving their goals. 'Business strategy receives the lion's share of attention from senior executives. But it is not enough to have a winning strategy alone,' said Professor Trevor. 'Businesses need to have a winning organisation too and ensure systematic management of their organisational culture, structure, processes and people in the pursuit of a company's purpose.'
In an article published in Harvard Business Review, Professor Trevor proposes a simple way for business leaders to test a company's strategic alignment by considering just two key questions:
1. How aligned is your business strategy to your organisational performance?
Purpose is what the organisation is trying to achieve. Strategy is how the organisation will achieve its purpose; the products and services offered, the markets served, and how an organisation positions itself against competitors. Using a scale of 1 – 100, ask how well does our strategy support the fulfimment of our organisational purpose?
2. How aligned is your organisation to your business strategy?
Organisation includes all of the required capabilities, resources (including human) and management systems necessary to implement your strategy, and this should flex in step with the strategies served. Using the same 1 – 100 scale ask: how well does our organisation support the achievement of our strategy?
'By plotting the answers onto a simple framework, we can identify four broad states of strategy alignment that each pose a different leadership challenge,' continued Professor Trevor. 'Those that have highly effective strategies for fulfilling their organisational purpose alongside highly effective organisations to achieve their strategies have the very best chance of winning against rivals, while at the other extreme organisations with strategies unable to fulfil their purpose are not long for this world.'
The article reflects the personal view of the authors and not necessarily that of Zurich Insurance Group.
For more information or to speak to Jonathan Trevor please contact the press office:
Josie Powell, PR Manager, Saïd Business School
Mobile +44 (0)7711 387215; Tel: +44 (0) 1865 288403
Email: josie.powell(at)sbs.ox.ac.uk or pressoffice(at)sbs.ox.ac.uk
Notes to editors
About Saïd Business School
Saïd Business School at the University of Oxford blends the best of new and old. We are a vibrant and innovative business school, but yet deeply embedded in an 800 year old world-class university. We create programmes and ideas that have global impact. We educate people for successful business careers, and as a community seek to tackle world-scale problems. We deliver cutting-edge programmes and ground-breaking research that transform individuals, organisations, business practice, and society. We seek to be a world-class business school community, embedded in a world-class University, tackling world-scale problems.
In the Financial Times European Business School ranking (Dec 2015) Oxford Saïd is ranked 10th. It is ranked 10th worldwide in the FT's combined ranking of Executive Education programmes (May 2015) and 28th in the world in the FT ranking of MBA programmes (Jan 2016). The MBA is ranked 7th in Businessweek's full time MBA ranking outside the USA (Nov 2014) and is ranked 5th among the top non-US Business Schools by Forbes magazine (Sep 2013). The Executive MBA is ranked 2nd worldwide in the Economist's Executive MBA ranking (Sep 2015) and 9th worldwide in the FT's ranking of EMBAs (Oct 2015). The Oxford MSc in Financial Economics is ranked 14th in the world in the FT ranking of Masters in Finance programmes (Jun 2015). In the UK university league tables it is ranked first of all UK universities for undergraduate business and management in The Guardian (Jun 2015) and 2nd in The Times (Sept 2015). For more information, see http://www.sbs.ox.ac.uk/
ENDS