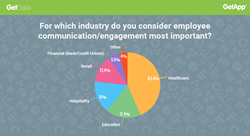 Communication breakdowns between medical professionals almost always lead to worsened patient outcomes.
Barcelona, Spain (PRWEB) May 21, 2016
Effective employee communication is more critical within the healthcare sector than any other industry, according to GetApp research. Almost half of all small business owners and managers panelled say they feel that good communication and engagement among the workforce is most important within healthcare.
Other industries that need reliable staff communication, according to the research, are education (17% of respondents saying this was the industry it was where effective communication was the most important), and hospitality (16%). The sectors where effective employee communication was not deemed so vital were retail and financial, where only 13% and 6% of respondents voted this these most important, respectively.
The new survey forms part of GetApp's ongoing research program, GetData, which canvases multiple choice responses from over 500 business professionals working at small and mid-sized companies across the US.
Christophe Primault, co-founder of GetApp says: "Communication is, of course, fundamental in any company - but it's clear there are industries where crossed messages can be a matter of life or death. Luckily, there are plenty of cloud-based tools to fit every business type and size, helping companies ensure staff are engaged with the right messages at the right time."
A. Jay, Mvix's Senior Director of Business Relations agrees. "Communication breakdowns between medical professionals almost always lead to worsened patient outcomes. In fact, an investigation attributed medial errors to gaps in communication, causing an estimated 200,000 deaths each year! Digital signage can help. As part of an omnichannel communication strategy it unifies communications and significantly improves the quality of care."
Full survey details:
Answers to the question: "For which industry do you consider employee communication/engagement most important?"
#1. Healthcare – 43.4%
#2. Education – 17.4%
#3. Hospitality – 16%
#4. Retail – 13.4%
#5. Financial (Bank/Credit Unions) – 5.8%
#6. Other – 4%
Demographics: 500 US-based respondents from a panel of SMBs (Small and Medium-sized Businesses).
More about GetApp: GetApp, a Gartner company, is an online marketplace for cloud-based business apps, specializing in helping small and medium-sized businesses find, research, and get in touch with business app providers from over 100 software categories. GetApp's Europe office is based in Barcelona, Spain.