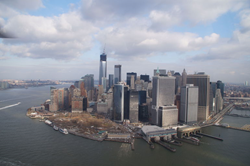 "Viator has more than 600 NYC tours and attractions, many available for booking right up to the last minute, with instant confirmations and convenient direct entry ticketing," said Barrie Seidenberg, CEO of Viator
San Francisco, Calif. (PRWEB) May 19, 2016
New York is one of the world's most popular summertime destinations and the team at Viator, a TripAdvisor company and the leading resource for tours and activities worldwide, has some timely travel planning tips to make sure travelers don't miss a thing on their Big Apple bucket list. With an ever-changing tourism landscape set atop some of the world's most iconic landmarks and attractions, Viator has the beat on securing access to everything epic in the city – from helicopter tours facing new departure guidelines to special access at the Empire State building and Ellis Island.
"As the crowds grow in New York City so does the demand, especially for the most iconic and unique things to do, and to avoid disappointment travelers should be booking those in advance," said Ms. Barrie Seidenberg, CEO of Viator. "But for those traveling on a whim or already in-destination, don't be disheartened. Viator has more than 600 NYC tours and attractions, many available for booking right up to the last minute, with instant confirmations and convenient direct entry ticketing."
Helicopter Tours – Don't Get Grounded, Plan Ahead
Recent changes to the operation of helicopter tours originating from Manhattan's Pier 6 Heliport means fewer departures throughout the week and none on Sundays. Viator is working with leading helicopter tour operators to provide continued access to a wide array of flights so travelers won't miss out on experiencing the City from this bird's eye perch. Popular helicopter tours that take in the sights including the Statue of Liberty, One World Trade and the Chrysler Building include the Manhattan Sky Tour (from $130, 12 minutes), the Big Apple Helicopter Tour of New York (from $149.99, 15 minutes), and the New York Manhattan Scenic Helicopter Tour (from $189, 18 minutes); as well as a very special experience - the Private Manhattan Helicopter Tour (from $1,500).
VIP and Exclusive – See the Sights like Never Before
Viator has a handpicked selection of VIP and Exclusive tours for any traveller looking for an extraordinary experience. The Viator Exclusive: Niagara Falls Day Trip from New York by Private Plane provides a once-in-a-lifetime opportunity to visit one of the natural wonders of the world thanks to a private plane flight (with no TSA lines!). Choose from either the US or Canadian sides of the falls, with inclusions like 'Maid of the Mist' and Hornblower Niagara cruises and other local attractions. The Viator VIP: Empire State Building, Statue of Liberty and 9/11 Memorial combines several of the city's most iconic landmarks as well as a hop-on hop-off river cruise with special access like skipping the line and early access at the Empire State Building, skipping the line at the Intrepid Sea, Air & Space Museum and the option for timed entry to the 9/11 Memorial. The Viator Exclusive: Statue of Liberty Monument Access and 9/11 Memorial includes a guided tour of the Wall Street area of Manhattan before visiting the 9/11 Memorial.
Next, enjoy priority boarding on the ferry to the Statue of Liberty National Monument where travelers ascend to the pedestal of Lady Liberty (tickets that often sell out) and head up to the observation decks.
Last Minute? Plans Changed? There's an App for That…Viator!
While it's best to book some things early, Viator delivers unprecedented access to hundreds of NYC experiences bookable at the last minute. Finish up room service while researching and booking tours for the next day (or later the same day in many cases) on the free Viator Tours and Activities App (free, iOS and Android). One million customer reviews and photos along with exclusive insider videos, travel tips, suggested itineraries and more help travelers create the perfect day in NYC. Viator's One World Observatory Admission provides seamless barcode admission to Manhattan's newest and perhaps most awe-inspiring attraction. Expertly guided walking tours of just about every neighborhood are right in the palm of your hand including explorations of Wall Street, Ground Zero and the 9/11 Memorial, the Highline, Midtown, Central Park, SoHo, Little Italy and China Town, Brooklyn, the Bronx and Harlem. Other great last-minute adventures include a gourmet food cart walking tour, a stand-up paddleboard excursion, multiple river cruises, and the brand new Real Housewives of NYC tour.
For more information on all of these New York experiences and thousands more worldwide, as well as the latest deals, promotions, contests and news, visit http://www.viator.com or follow Viator on Facebook (ViatorTours) and Twitter (ViatorTravel).
About Viator
Viator, a TripAdvisor company, is the leading global tours and activities provider for travelers, delivering online and mobile access to thousands of trip activities including tours, attractions, shore excursions and private guides, in more than 2,000 destinations worldwide. In-house travel experts work with trusted local operators to ensure the quality and value of every experience, all backed by Viator's 24/7 customer service and global low-price guarantee. With more than 1 million verified reviews plus exclusive videos and insider travel tips, Viator has everything a traveler needs to find and book the best things to do. In addition to the flagship site – Viator.com – travelers can book in advance or in-destination via the Viator Tours and Activities App, as well as local-language sites for European, Latin American and Asian travelers. Viator also provides tours and activities to more than 3,000 affiliate partners including some of the world's top airlines, hotels and online travel agencies. Viator is headquartered in San Francisco with regional offices in Sydney, London and Las Vegas. Viator – travel with an insider.