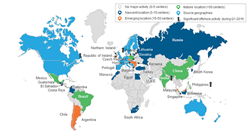 Service delivery automation continues to shape the industry, and we are beginning to see a clear demarcation of leading providers who have witnessed significantly greater impact on the revenue, cost and productivity
Dallas, TX (PRWEB) May 23, 2016
Global outsourcing demand exceeded industry expectations in Q1 2016, according to Everest Group, a consulting and research firm focused on strategic IT, business services and sourcing. Most service providers reported sequential growth in revenue, and transaction activity increased significantly, with more new deals reported in Q1 than in any of the previous eight quarters.
Growth in the IT outsourcing market was a key contributor to the outsourcing industry's strong performance in Q1, with banking, financial services and insurance (BFSI) and manufacturing, distribution and retail (MDR) verticals leading the way. Service delivery automation, an ongoing trend among service providers, is helping replace a substantial amount of human yields, resulting in significant cost savings for enterprises.
Everest Group presented these and other highlights of the global services market in Q1 2016 in a one-hour live webinar on May 12. The webinar, "Key Insight on Digital Service Delivery 'Talent Hotspots' PLUS Market Vista™ Q1 2016 Update," featured Everest Group experts offering insights on the delivery locations that are positioned to become the "talent hotspots" for the delivery of digital services.
***Download the complimentary presentation and attend the webinar on demand.*** (Note: download requires free registration on Everest Group's research site or log in using an existing account.)
"Service delivery automation continues to shape the industry, and we are beginning to see a clear demarcation of leading providers who have witnessed significantly greater impact on the revenue, cost and productivity," said Salil Dani, vice president at Everest Group. "Best-in-class providers are reporting some remarkable milestones, such as a 24 percent reduction in net headcount addition, cost savings between US$100 to $300 million annually, and up to 50 percent improvement in productivity due to automation."
Other Key Takeaways

The increase in demand continued to be led by the "traditional buyer geographies" of Europe and North America
GIC activity was high, with setups concentrated in Europe for buyers looking to leverage the nearshore proposition
Overall location activity also remained high with increased center setups in Latin America compared to previous quarters. Interestingly, India's share in new center setups decreased for the first time in many years
Service delivery automation (SDA) adoption is leading to lower headcount addition by leading service providers, compared to 2015
About Everest Group
Everest Group is a consulting and research firm focused on strategic IT, business services, and sourcing. We are trusted advisors to senior executives of leading enterprises, providers, and investors. Our firm helps clients improve operational and financial performance through a hands-on process that supports them in making well-informed decisions that deliver high-impact results and achieve sustained value. Our insight and guidance empowers clients to improve organizational efficiency, effectiveness, agility and responsiveness. What sets Everest Group apart is the integration of deep sourcing knowledge, problem-solving skills and original research. Details and in-depth content are available at http://www.evererstgrp.com and research.everestgrp.com.
###
Contact:
Andrea M. Riffle, Everest Group
andrea.riffle(at)everestgrp.com
Robert Cathey, Cathey Communications
+1-865-386-6118
robert(at)cathey.co