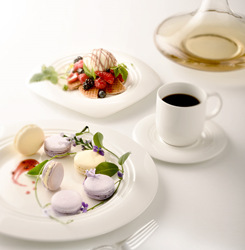 Lafayette, NJ (PRWEB) May 21, 2016
Foodservice supply manufacturer Bon Chef unveils a new dinnerware line at The National Restaurant Association Show. The company formally launched their dinnerware line with a ribbon cutting ceremony at the opening of the NRA Saturday morning in Chicago.
"The decision to expand into dinnerware has been in the works for over a year now," said Bon Chef President, Sal Torre. "Our goal is to provide uniquely designed alumina fully vitrified porcelain and bone china patterns at an attractive price point."
The initial line consists of 8 collections; Circles, Wide Rim, Slanted Oval, Concentrics, Mid-Century, Stacks, Globe and multiple color Cocottes. Each collection contains uniquely designed shapes created by Bon Chef's design team available in alumina fully vitrified porcelain or bone china that comes with a 3 year chip warranty. "Chef's have been asking us for years to create different shapes that will enhance their dining presentations. Our designers have done just that," said Sal Torre.
About Bon Chef:
For over 44 Years, Bon Chef has been the recognized leader in the foodservice industry for quality, service and product knowledge. Ask your Bon Chef Representative to show you the entire line of products especially designed for buffet serving:
o Fine Porcelain & Bone China
o Sandstone – NSF Approved Unbreakable China-Like Bowls & Platters
o Melamine
o Flex Tables
o Coldwave Bowls - keep food cold for up to 8 hours with no ice needed
o EZ Tiles - no measuring needed
o Alternate Linking Heat Source - keep food hot without a chafer or water
o 18/8 Stainless Steel Flatware
o Bon Steel Flatware
o Insulated Coffee Urns
o Invisible Induction Communal Tables
o Individual Breath Guards
o Chafing Dishes
o Induction Systems
o Country French Collection of colored serving vessels
o Cucina - from individual table service to grand buffet of home feel serving items
o Custom Millwork
o Dinnerware
For more information, please call Bon Chef at 800-331-0177, or visit their website at bonchef.com.