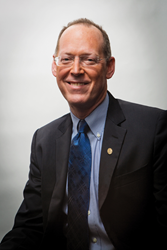 Chicago, Illinois (PRWEB) May 21, 2016
Paul Farmer, MD, PhD, internationally-renowned global health advocate, cofounder of Partners In Health (PIH), and chair of the Department of Global Health and Social Medicine at Harvard Medical School, will speak at the Friday General Session, Global Health of the Future, at the ASCP Annual Meeting, Pathology and Lab Medicine: Today, Tomorrow, Beyond, on Sept. 16, 2016, in Las Vegas.
A steadfast advocate for health care for the poorest of the poor, Dr. Farmer has treated impoverished patients in Haiti, Rwanda, Peru, and other disadvantaged countries for more than 30 years. He has raised money to build hospitals where there have been no healthcare facilities.
Calling him a "premier change agent for global health," ASCP CEO E. Blair Holladay said, "Quality laboratory medicine is vital to improving health worldwide. Dr. Farmer's presentation will set the stage for uniting science, collaboration, and international outreach for 2016 ASCP Annual Meeting participants." This year's ASCP Annual Meeting will take place from Sept. 14–16, 2016.
The recipient of the John D. and Catherine T. MacArthur Foundation "Genius Award," Dr. Farmer was appointed in 2012 by Secretary-General Ban Ki-Moon as the UN Special Adviser to the Secretary-General on Community Based Medicine and Lessons from Haiti. Dr. Farmer served as Deputy Special Envoy for Haiti from 2009 to 2012. In that capacity, he supported Special Envoy President Clinton in implementing the Government of Haiti's priorities for the recovery effort.
Dr. Farmer and his colleagues at PIH focus on community-based treatment strategies for infectious diseases that demonstrate the delivery of high-quality health care can be accomplished in resource-limited places. In 2005, PIH expanded to Sub-Saharan Africa, bringing community-based HIV treatment and primary care to two districts in rural Rwanda. The following year, PIH launched a new project in Lesotho in southern Africa, bringing primary care and HIV and TB testing and treatment to two remote clinics high in the mountains. In 2007, PIH began work in Malawi, launching testing and treatment programs for HIV and TB.
"Dr. Farmer's work through Partners in Health for HIV and TB patients, particularly in Africa and Haiti, dovetails with the dedication of ASCP volunteers working to advance laboratory practice in resource-limited countries that ultimately improve patient outcomes," ASCP President David N.B. Lewin, MD, FASCP, said.
Over the past decade, ASCP has worked collaboratively with the Centers for Disease Control and Prevention to strengthen laboratory capacity and work toward accreditation in Sub-Saharan Africa under the President's Emergency Plan for AIDS Relief. After a 10-year investment in laboratory capacity, the initiative has left a sustainable footprint and laboratories are now able handle more complex diagnoses and disease monitoring.
In 2015, ASCP launched its largest initiative ever, Partners for Cancer Diagnosis and Treatment in Africa, to provide patients in underserved areas of Sub-Saharan Africa access to rapid cancer diagnostics and appropriate care and treatment. The ASCP-led coalition was formed in response to a call to action issued by the White House Office of Science and Technology Policy, and is a recognized Commitment to Action by the Clinton Global Initiative. Dr. Farmer and his team at Partners in Health are a critical partner of the coalition, providing on-the-ground volunteer support to make available care and treatment for patients after diagnosis.
In all of Africa, there are fewer than 0.8 pathologists per 100,000 of population. In some countries, the ratios are much worse. For example, in Rwanda there is 1 pathologist per 12 million people. In contrast, the United States has more than 60 pathologists per one million people. ASCP's experience working in Sub-Saharan Africa has proven that it will take many years for sufficient in-county pathology workforces to be built.
Dr. Farmer's presentation will underscore to attendees at the conference the importance of the laboratory in making an impact on global patient care as the healthcare industry moves into the future. For more information about the ASCP 2016 Annual Meeting, go to http://www.ascp.org/2016.
About ASCP
Founded in 1922 in Chicago, ASCP is a medical professional society with more than 100,000 member board-certified anatomic and clinical pathologists, pathology residents and fellows, laboratory professionals, and students. ASCP provides excellence in education, certification, and advocacy on behalf of patients, pathologists, and laboratory professionals. To learn more, visit http://www.ascp.org. Follow us on Twitter at http://www.twitter.com/ascp_chicago and connect with us on Facebook at http://www.facebook.com/ASCP.Chicago
# # #