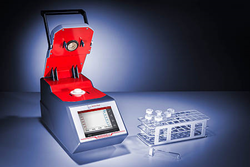 Ashland, VA (PRWEB) May 21, 2016
Priced under $8,000, the Monowave 50 puts the capabilities and benefits of dedicated high temperature synthesis reactors within reach of every chemistry lab.
Shorter reaction times, higher yields, lower reagent consumption, and simplified handling are all reasons that thousands of laboratories per year are moving away from conventional chemical synthesis methods to dedicated sealed-vessel reactors, including microwave systems. The relatively high price of these dedicated systems has, however, proved to be a barrier for many graduate and undergraduate laboratories from adopting microwave chemistry in teaching. The Monowave 50 all but eliminates that barrier.
The Monowave 50 incorporates the convenience and scalability of conventional heating in sealed vessels, thereby enabling high temperature reaction conditions similar to microwave reactors. An ultra-compact footprint ensures that the Monowave 50 can be placed even in crowded labs, while Anton Paar's high safety standards ensure that even inexperienced users can simply "plug and play."
Anton Paar has been a leader in microwave chemistry for more than 25 years. With an already robust portfolio, including the Multiwave PRO and Masterwave BTR, the addition of the Monowave 50 to the Monowave line of synthesis instruments rounds out the most versatile line of reactors on the market.