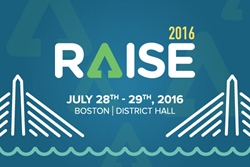 I consider EverTrue the leader in this space as their products continue to break down the walls between the digital world and institutional databases. I am honored and thrilled to be part of Raise - Keith Hannon, Cornell University, Digital Innovation
Boston, MA (PRWEB) May 20, 2016
EverTrue, a leading donor management platform, today introduced Raise 2016, the company's industry conference that will take place on July 28 and 29 at District Hall in Boston. The event will convene advancement industry leaders for two action-packed days of inspiring keynote talks, interactive panels, hands-on breakout sessions and networking opportunities.
"Advancement teams are entering a new frontier full of possibility," said Brent Grinna, EverTrue founder and CEO. "With new technology, resources and strategies to connect development teams with donors and maximize giving potential, the future of advancement is truly upon us. We are thrilled to create an opportunity for the best and brightest industry leaders to come together to share, learn and drive advancement forward."
Raise 2016 will feature engaging keynote talks and collaborative panel discussions that pair development leaders with for-profit strategists, lending insight into how fundraisers can apply leading resources to connect with donors and maximize results. Speakers include advancement evangelists from Boston University, Cornell University and Williams College and for-profit strategists from Bain Capital Ventures, The Boston Celtics, Dunkin' Brands and more.
"This is an exciting time for strategists working at the intersection of digital engagement and nonprofit fundraising," said Keith Hannon, Cornell University's Associate Director of Digital Innovation. "The evolution of social media and the web has provided fundraisers with access to crucial donor data and tools that access and streamline this data to help us better understand our audiences. I consider EverTrue the leader in this space as their products continue to break down the walls between the digital world and institutional databases. I am honored and thrilled to be part of Raise 2016 and look forward to the enlightening and inspiring dialogues that are sure to take place during the conference."
Session topics will include:

Advancement Tomorrow: How leading institutions are refreshing their strategies to achieve measurable results
Relationship Building Best Practices Applied to the Advancement World
Leading Your Team to Achieve Better Results
Donor Management in the Digital World: How consumer brands and leading academic institutions have developed social and digital strategies to drive engagement
Thinking Outside the Database: How embracing better technology and data can revolutionize the advancement world
Registration for Raise 2016 is now open at http://www.evertrue.com/Raise2016. A discounted early bird registration rate is available through May 28, 2016. For updates on speakers and session topics visit the Raise website or follow EverTrue on Facebook, Twitter or LinkedIn.
About EverTrue
Since 2010, EverTrue has been empowering fundraising teams with intuitive web and mobile software. Today, more than 300 nonprofit institutions, with a combined $20 Billion of giving data (and counting!), rely on EverTrue to identify, prioritize, and manage their prospects. EverTrue is headquartered in Boston, Mass. and is a Bain Capital Ventures-backed company.