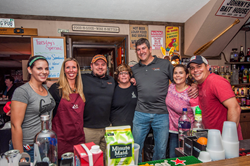 "This is an event that everyone looks forward to" said Jodi Refosco, Taylor-Made Owner. "It's a fun night that helps an organization that does a lot for animals in the Deep Creek Lake area. Being part of a community that comes together is uplifting."
McHenry, Maryland (PRWEB) May 21, 2016
Members of the Taylor-Made Deep Creek Vacations & Sales family vacation rentals and real estate teams participated in the annual HART for Animals Guest Bartender Challenge. Raising over $1,600, the event brought locals and visitors out to JG's Pub to lend their support to this exceptional organization.
Taylor-Made has a long history of being part of the Bartender Challenge – the charity events inspire friendly competition among Deep Creek Lake real estate and vacation rental companies to see who can raise the most money for HART.
The admirable mission of HART for Animals includes:

Rescuing animals and transporting them to increase chances of adoption
Offering low-cost spaying and neutering to reduce overpopulation
Providing a humane and friendly adoption center
Educating owners about responsible pet ownership
Funds raised from past events helped the organization complete a facility that houses a veterinary clinic, boarding facility, adoption wing, and grooming services. It is staffed by a dedicated team of professionals along with numerous volunteers.
Taylor-Made's involvement with HART for Animals will continue as the company is committed supporting their goal of bettering the lives of animals in Western Maryland.
About Taylor-Made Deep Creek Vacations & Sales:
Taylor-Made Deep Creek Vacations & Sales was founded in 2008 and has grown to become a leader in Deep Creek Lake vacation rentals, real estate, and property services. Taylor-Made rental homes and sales listings are conveniently located within a few hour's drive from Pittsburgh, Baltimore, and Washington, DC.