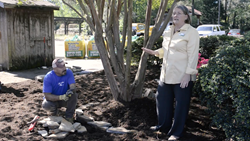 Gardening is her passion and sharing that knowledge has also become her passion.
Raleigh, North Carolina (PRWEB) May 20, 2016
Super-Sod's Shannon Hathaway is continuing her popular gardening classes with this Saturday's class on the Environmental Benefits of Warm Season Grasses. The class will commence with a power point presentation comparing different warm-season sod varieties and will conclude with a live demo about the proper techniques for laying sod. It will be held rain or shine and, in case of rain, a demonstration area has been prepared under the shelter of Super-Sod of Cary's front porch roof.
Shannon, who has extensive knowledge of horticulture and landscaping, is an outside sales consultant at Super-Sod of Cary. She says that "gardening is her passion and sharing that knowledge has also become a passion."
All of Shannon's gardening classes at Super-Sod are open to the general public and all skill levels. There is no cost to attend these classes.
Space is limited, so it's recommended to preregister by contacting Shannon directly at (919) 219-9233 or shathaway(at)supersod(dot)com.
Location of the classes are at Super-Sod's larger Cary store, located at 1900 NC Hwy 55, Cary, NC 27519. Please note that classes are not at their Raleigh store at the State Farmers Market.
Super-Sod of Cary's Gardening Classes Schedule:
1) Environmental Benefits of Warm Season Grasses - May 21 from 10:00-11:30am
Learn more about Bermuda, Zoysia and Centipede lawns – how they save time and money, while reducing impact on the environment. Shannon will demonstrate proper installation methods as well.
2) Proper Care of Warm Season Lawns - June 18th from 10am-11:30am
Learn how to care for Zoysia, Bermuda or Centipede Lawns: how and when to fertilize, warning signs and treatments for disease and insects, how compost can be beneficial, and how to mow a warm season lawn correctly.
3) Permeable Hardscaping with Drivable Grass and Flagstone - July 16th from 10am-11:30am
Learn how to make a flagstone patio or path with grass joints, and a permeable "Drivable Grass" parking area.
4) Stone Wall 101 - August 20th from 10am-11:30am
Back by popular demand! Space is limited so sign up early. Learn 3 techniques of stone wall construction.
Super-Sod is a family-run business that employs experts in turf and horticulture. Focusing their sod and compost business in the Southeast, they sell sod by the individual roll, full pallet, or truckload. It's available for delivery or pick-up fresh from their farms to landscapers and directly to DIY homeowners. One of their most popular products has been their OMRI Listed Soil3 organic compost, delivered in a cubic yard BigYellowBag, which they make partially from composted grass clippings from their sod production. Super-Sod continues to develop new garden products, foster gardening and landscaping, and always seeks to improve their farming practices, technology, environmental stewardship, and employee knowledge.