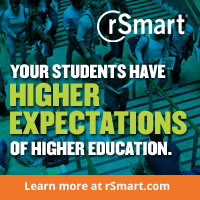 OneCampus provides an intuitive, mobile-ready gateway to the information our campus community needs most.
(PRWEB) May 24, 2016
St. Edward's University in Austin, Texas, has selected OneCampus from rSmart® to provide students, staff, and faculty with easy access to campus services, from any location on any device. The OneCampus solution, a cloud-based platform, was chosen by St. Edward's to replace the current platform for their university portal, myHilltop, over the course of the next year.
OneCampus is a service discovery portal that simplifies access to campus services such as grades, class schedules, campus activities, email, and much more. OneCampus connects to St. Edward's University's campus-based authentication system to allow for single sign-on (SSO) to institutional services and applications. With a robust Google-like search engine, and ratings and reviews to effectively analyze what services are being used, OneCampus provides a modern approach to organizing web-based services. OneCampus also has powerful APIs to push data from popular systems used on campus, like Canvas.
St. Edward's University selected OneCampus because of its marked improvements in user experience for its campus community. The university has long looked for ways to make vital campus information easier to find and use, from wherever students, faculty, and staff might be, and OneCampus is an integral step in making university services more user-focused.
"OneCampus provides an intuitive, mobile-ready gateway to the information our campus community needs most, which is something we've heard from students, staff and faculty when showing them the platform. As we've begun building our site, our staff has taken to calling OneCampus the "fast track" to information, and we're eager for our entire campus to enjoy the benefits of its clean, user-centric design," said David Waldron, Vice President for Information Technology at St. Edward's.
The OneCampus community includes nearly a million students, parents and faculty from colleges and universities across the country, and plays an integral part in helping students find success on campus. OneCampus delivers the digital experience students expect, with the ease and efficiency schools such as St. Edward's University need.
"We are excited to welcome St. Edward's University to the OneCampus community," said rSmart CEO Tony Potts. "With a global perspective and a focus on an international campus environment, St. Edward's is an ideal institution to give students and faculty the most current solution for navigating campus services from any location."
OneCampus by rSmart will be showcased at the UBTech Conference June 6-8 in Las Vegas, NV. To learn more about OneCampus now or to request a demo, visit https://www.rsmart.com or call 866.874.4338.
About St. Edward's University
Founded in 1885 by the Congregation of Holy Cross, St. Edward's University is the premier private institution of higher learning in Austin. Enrolling approximately 5,000 students, the university offers approximately 50 academic programs for undergraduates, 10 undergraduate degree programs specifically designed for working adults and seven master's degree programs.
The St. Edward's community is diverse and cosmopolitan. Students from more than 50 countries are currently enrolled at the university and St. Edward's partners with 21 universities located in 16 countries around the world. The university is committed to preparing students for success in a 21st century world increasingly shaped by globalization, ubiquitous technology and relentless change.
Over the last two decades, the university has doubled its enrollment and invested more than $175 million in new campus facilities. US News & World Report has ranked St. Edward's among the top regional universities in the West for 13 consecutive years. Consistent with its Holy Cross heritage, the university maintains a strong focus on issues of social justice.
About rSmart
For more than 15 years, rSmart has been changing the way higher ed thinks about technology by delivering solutions that reduce costs, improve productivity, and simplify the user experience. The OneCampus product is a lightweight, mobile-friendly technology that makes finding campus services faster and easier than ever. rSmart is privately held and headquartered in Scottsdale, AZ. To learn more, visit https://www.rsmart.com.