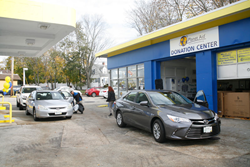 Newport, Rhode Island (PRWEB) May 19, 2016
Planet Aid is celebrating the one year anniversary of its donation and recycling facility at 7 West Main Road, Newport, Rhode Island. During the previous year the donation center helped divert nearly 700,000 pounds of materials from the municipal waste stream, thus helping to extend diminishing landfill capacity.
The Donation Center accepts clothing, shoes, and accessories as well as blankets, towels, curtains, sheets, and bedspreads. It provides 24/7 drop-off service for Aquidneck Island as well as the surrounding communities of Bristol, Jamestown, Narragansett, North Kingston, and Tiverton. Residential curbside pick-up of textiles is also available by appointment.
"We want to thank the State of Rhode Island and specifically the communities of Middletown and Newport for their support," said Keith Gregory, Planet Aid's Operations Manager for the Southern New England area. "We will continue to work with our neighbors and the Rhode Island Resource Recovery Corporation to make it easier for the community to donate and recycle their unwanted goods."
The Donation Center has itself been carefully "recycled" by Planet Aid. A former Sunoco gas station, the site was given a new and noble purpose to collect and recycle used textiles while protecting the environment and helping those who need it the most.
About Planet Aid
Planet Aid is a U.S. 501 (c)(3) nonprofit and is registered with USAID as a private voluntary organization. Accredited by the Better Business Bureau's Wise Giving Alliance, Planet Aid collects and recycles used clothing and shoes as part of its environmental mission. The net proceeds from its 21-state recycling operation help to support projects aimed at eliminating poverty. Since its inception in 1997, Planet Aid has provided more than $100 million to support projects on three continents. Planet Aid supports programs in education, teacher training, nutrition and agricultural and economic development.