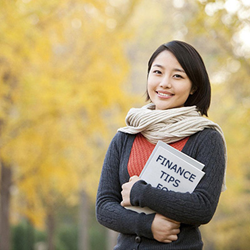 With graduation comes new expenses and added stress, particularly as it relates to finding a job and paying those first student loan bills.
Boston, MA (PRWEB) May 20, 2016
With graduation on the horizon, it is important that new college graduates start thinking about their financial future. The truth is, not every college graduate is knowledgeable about their personal finances. In an effort to help new graduates in Massachusetts, national non-profit American Consumer Credit Counseling offers essential personal finance tips.
"With graduation comes new expenses and added stress, particularly as it relates to finding a job and paying those first student loan bills," said Steve Trumble, President and CEO of American Consumer Credit Counseling, which is based in Newton, MA. "Unfortunately, many graduates lack important financial literacy skills and do not realize that the way they spend their money now can have a major impact on their financial lives far into the future."
In a project by the Institute for College Access & Success, 65 percent of 2014 graduates from Massachusetts institutions took on debt upon graduation. Massachusetts ranked 11th highest in the country for the average amount of debt per borrower with a higher-than-average rate of $29,391. The average debt per borrower increased $826 in 2014 from 2013's average of $28,565.
ACCC provides college graduates in Massachusetts with five essential financial tips to incorporate into their daily personal finance habits:
1. Create a budget and stick to it – Now that you are making money and receiving a paycheck, it is tempting to want to treat yourself. It is important to understand what a budget is and how you can balance your income and monthly expenses. Develop a strong budget by using a budgeting worksheet to determine where your paycheck is going each month and where you may be able to cut back and save.
2. Don't forget the debt you already have – It is important to start paying down student debt as soon as possible. Although it may seem tempting to pay the minimum or defer your loans, it can lead to greater financial challenges down the road. Student loans are one of the best ways to establish and build good credit. Do your homework, and make sure you are aware of the different repayment options that are available to you.
3. Protect your credit worthiness – A credit score allows lenders to measure your ability to repay debt, which can determine the interest rates you pay for your car, rent, credit cards and mortgage. Paying the full balance of your credit card on time each month can help you build strong credit and save you thousands in interest payments as a result.
4. Establish an emergency fund – Although putting money aside for an emergency fund may be unrealistic for recent college graduates, putting as much as $5 aside each week can add up should something unexpected occur, such as job loss or a medical bill. Once you establish yourself and start making more money, start setting aside 10 to 15 percent of each paycheck.
5. Start saving for retirement – Putting off saving for retirement is one of the most common mistakes recent graduates can make. An employee-sponsored 401(k) enables you to purchase bonds, stocks and mutual funds with pre-tax dollars. This money can grow for years without you having to pay taxes. By not investing in a 401(k) plan, you are essentially turning down free money.
ACCC is a 501(c)3 organization that provides free credit counseling, bankruptcy counseling, and housing counseling to consumers nationwide in need of financial literacy education and money management. For more information, contact ACCC:

For credit counseling, call 800-769-3571
For bankruptcy counseling, call 866-826-6924
For housing counseling, call 866-826-7180
Or visit us online at ConsumerCredit.com
About American Consumer Credit Counseling
American Consumer Credit Counseling (ACCC) is a nonprofit credit counseling 501(c)(3) organization dedicated to empowering consumers to achieve financial management through credit counseling, debt management, bankruptcy counseling, housing counseling, student loan counseling and financial education. In order to help consumers reach their goal of debt relief, ACCC provides a range of free consumer personal finance resources on a variety of topics including budgeting, credit and debt management, student loans, youth and money, homeownership, identity theft, senior living and retirement. Consumers can use ACCC's worksheets, videos, calculators, and blog articles to make the best possible decisions regarding their financial future. ACCC holds an A+ rating with the Better Business Bureau and is a member of the National Foundation for Credit Counseling® (NFCC®). For more information or to access free financial education resources, log on to ConsumerCredit.com or visit TalkingCentsBlog.com.