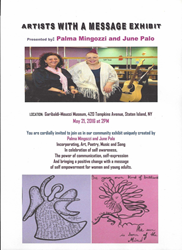 Authors Palma Mingozzi and June Palo discuss the power of positivity!
Staten Island, NY (PRWEB) May 20, 2016
Boulevard Books authors, Palma Mingozzi and June Palo will lead an interactive performance that will incorporate Art, Poetry, Music and Song in celebration of self awareness, the power of communication, self expression, the power of positivity with a message of self empowerment for women and young adults.
"Artists with a Message seek to make a difference by bringing nonviolence and healing forward through the arts and by bringing empowerement, beauty, upliftment, awareness and education for our communities," said Palma Mingozzi, the author of The Entitlement of the Soul, the new book of poetry recently published by Boulevard Books. "We are here to help make better choices that are indicative of our emphasis on our true nature and nurture - nature always dwells in joy and love and in learning."
Founded in 2010 by author and educator, Avi Gvili, Boulevard Books aims to bring out the new voices of the 21st century. We know writers because we are writers!