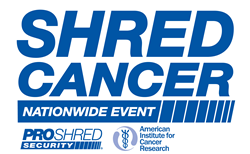 Charlotte, NC (PRWEB) May 20, 2016
PROSHRED Charlotte and the American Institute for Cancer Research (AICR) will provide secure paper shredding on Saturday, June 4th in honor of National Cancer Survivor Day. Paper shredding will be offered for a recommended donation of $5 per box (with a 5 box limit) and one hundred percent of the donations will go to the AICR. The event will take place at the Charlotte Catholic High School at 7702 Pineville/Matthews Road. Individuals who participate in secure paper shredding will receive goodie bags with cancer prevention recipes and other lifesaving informational materials. For more event details, visit http://www.aicr.org/events/shredcancer/?referrer=https://www.google.com/#index.html
Last year, the American Institute for Cancer Research and PROSHRED raised over $50,000 through their Shred Cancer event. Overall 26 communities nationwide participated in the day's shredding services. After Shred Cancer 2015, the American Institute for Cancer Research said of their partnership with PROSHRED, "Thank you for all of the hard work put forth in planning the 2015 Shred Cancer events. We look forward to our 2016 events and our kick off in February!"
Since 2014, AICR and PROSHRED Charlotte have worked together to increase cancer prevention awareness and educate people on the healthy choices they can make to reduce their risk of cancer. The event also will honor cancer survivors, their friends and family, and medical professionals involved in treating and caring for cancer patients.
PROSHRED joined the fight against cancer after one of their own was diagnosed. "When one of our franchisee managers was stricken with an inoperable brain tumor and we saw the amazing fight he had to beat this disease, we knew that we had to find an organization just as committed as David was to fighting this disease. For us at PROSHRED we wanted an organization that had the same beliefs we had – education, prevention, and knowledge are the best ways to stop this disease, and AICR lives this every day, their research is aimed at education and prevention. We at PROSHRED know that we can help make a difference, and will do everything we can to help do that."
About Proshred Charlotte
PROSHRED Charlotte has been a trusted source for information destruction, helping businesses and individuals alike maintain information security and personal privacy. PROSHRED Charlotte is a service-driven document destruction company dedicated to on-site paper shredding: one of the most secure, convenient and cost-effective methods for destroying and recycling confidential documents and materials. To learn more, visit http://www.proshred.com/Charlotte.