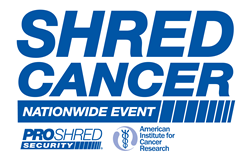 For us at PROSHRED we wanted an organization that had the same beliefs we had – education, prevention, and knowledge are the best ways to stop this disease, and AICR lives this every day, their research is aimed at education and prevention.
Milwaukee, WI (PRWEB) May 23, 2016
Shred Cancer, a nationwide fundraising event to raise money for cancer research, will take place on June 4th from 8 a.m. to 11 a.m. at 1425 Commerce Ave in Brookfield, Wisconsin. This annual event, hosted by PROSHRED Milwaukee and the American Institute for Cancer Research (AICR), will provide free shredding services to the local community. Donations will be accepted, limit five boxes of documents to shred per person. For more information, contact the PROSHRED Milwaukee office at 1-262-289-1212 or visit the AICR website. (text link: http://www.aicr.org/events/shredcancer/?referrer=https://www.google.com/#index.html)
This year's third-annual Shred Cancer event is aiming to raise $75,000 for the AICR across all 26 PROSHRED locations. In addition to fundraising, the event is meant to increase awareness and education of the healthy lifestyle choices individuals can make to help prevent cancer. All free shredding participants will receive a goodie bag with healthy recipes and lifestyle prevention tips. Last year's event surpassed its $50,000 goal through the donations given for PROSHRED's free shredding services.
PROSHRED's involvement in National Cancer Survivors Day – a day of community outreach set aside to celebrate survivors, inspire those fighting cancer, and support the family and friends of cancer patients – is inspired by David Wright, a PROSHRED franchisee who has been living with and battling an inoperable brain tumor for several years. "It is in his honor that our PROSHRED franchisees and locations are gathering together to host this event," said PROSHRED CEO Jeffrey Hasham.
About PROSHRED Milwaukee
PROSHRED is the industry leader in on-site document destruction. PROSHRED Milwaukee offers secure document and paper shredding services to the following counties in Wisconsin: Columbia, Dane, Dodge, Jefferson, Kenosha, Milwaukee, Ozaukee, Racine, Rock, Sheboygan, Walworth, Washington, Waukesha. PROSHRED has more than 25 years of experience in mobile paper shredding and is the only company certified by both the ISO 9001 and NAID AAA standards. To learn more, visit proshred.com/Milwaukee. (text link: http://www.proshred.com/milwaukee)