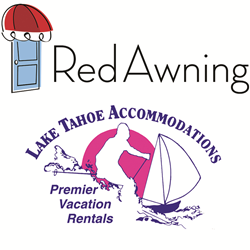 Emeryville, CA (PRWEB) May 26, 2016
RedAwning.com, the five-year-old vacation rental start-up that led the way in instant online booking and is the only one-stop complete reservations and channel management solution for property managers, is happy to announce that they've just exceeded their 1000th reservation with Lake Tahoe Accommodations, a premier, family-owned property management company based in South Lake Tahoe.
"As the largest and one of the oldest Vacation Rental companies in Lake Tahoe, LTA has worked with a large number of wholesalers worldwide, but in over 35 years of doing business, no other company has produced the volume and quality of bookings as RedAwning.com," said Chuck Maas, Marketing Consultant for Lake Tahoe Accommodations. "The average booking we receive from RedAwning exceeds $1,200."
With its integration to the largest advertising network in the world, including Airbnb, Booking.com and the Priceline group, Expedia, HomeAway and VRBO, TripAdvisor and many more, RedAwning is able to achieve global marketing exposure for Lake Tahoe Accommodations.
Property managers like Lake Tahoe Accommodations can also leverage RedAwning's fully-inclusive services, including a 24/7 reservations and lead response team, optimized property presentation and lead follow-up strategies, and a comprehensive branded experience that builds trust with guests, to achieve greater success and more reservations across all channels. This powerful, full-service approach helps to drive conversion and makes the RedAwning solution much more than a simple channel connector.
Sean Raftree, VP of Business Development at RedAwning, says it's gratifying to see this growth with one manager. "Hitting the 1000th booking milestone is a testament to the power of RedAwning's advertising network and our unique, full-service, complete management approach to channel marketing. RedAwning has built tools and capabilities to take new properties live on every major network in the world, faster than any other company," says Raftree, "but more importantly, once live, our team works round-the-clock to convert ads to actual bookings."
Property managers interested in a comprehensive, active channel management solution that guarantees the delivery of more reservations with significantly less work for property managers should visit http://www.redawning.com/list/propertymanagers or contact the RedAwning's business development office.
Watch Video Testimonial: https://www.youtube.com/watch?v=IGl4qbJnLEM
About RedAwning
RedAwning.com, Inc. is the leader in hotel-style reservations for the vacation rental industry and the only one-stop complete reservations and channel management solution for property managers and owners. With one integration, one connection, one contract, and one commission, RedAwning offers property managers and owners the fastest, easiest connection to the most extensive marketing network in the industry, including Expedia, Inc., Booking.com and the Priceline Group Network, Airbnb, Flipkey, TripAdvisor, VRBO and the HomeAway Network. The RedAwning solution incorporates a multitude of unique services to managers including key level exposure for all units, 24x7 lead response, renter customer service support and complete reservations and payments management. In May 2015, RedAwning also acquired PerfectPlaces.com and TravelProRentals, a complete vacation rental booking platform for travel professionals, further expanding its stable of marketing opportunities for property managers and owners.
About Lake Tahoe Accommodations
Lake Tahoe is a full-service vacation rental management company with a large lake-wide selection of quality vacation rental homes, cabins, and condos. It has been owned and operated by Jim and Melinda Morris since 1979. During this time, they have grown to become the largest and most trusted source of vacation rentals in Lake Tahoe. LTA operates four full service rental offices - South Lake Tahoe, CA; Tahoe City, CA; Incline Village, NV; and Stateline, NV. Our central reservations & management office is open 24-hours a day, 7 days a week.