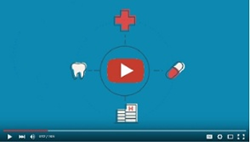 Salt Lake City, UT (PRWEB) May 20, 2016
Zane Benefits, the leader in individual health insurance reimbursement for small businesses, announced today a new 1-minute video, "The Remedy."
The new resource provides a quick look at the challenges small businesses face this renewal season and how to use Zane Benefits' software to offer better benefits with fewer hassles and lower costs.
According to the video, premiums are flaring up and renewals are becoming painful. In fact, according to one study, 90 percent of employers are facing health plan premium increases this year, with a quarter seeing increases in the double digits.
As the video discusses, there is a better small business health benefits solution: individual health insurance reimbursement.
With the Zane Benefits cloud-based, self-service software program, employers can provide employees a tax-free reimbursement for individual health insurance premiums and give employees the freedom to choose portable health insurance coverage.
Employees benefit from health insurance subsidies and other perks of modern individual health insurance coverage; all while staying legally compliant and eliminating the administrative costs of maintaining a traditional group policy.
The new video is available at the ZaneBenefits.com website and provides a quick look the following topics:

Why premium renewals are becoming painful for small businesses
How to save 20 to 60 percent on healthcare costs
A healthier way to manage overhead costs
How offer benefits that are totally beneficial
About Zane Benefits, Inc.
Zane Benefits was founded in 2006 with a mission to consumerize employee benefits for small business. We have a vision for the world where employee benefits are actually employee benefits rather than employer benefits. "Consumerize" is the word we use to describe that vision. When small businesses offer Zane Benefits instead of traditional benefits, they save time and money by empowering employees with tax-free dollars. Using our online software platform (PeopleKeep®), small businesses help employees purchase their own benefits with real dollar contributions.