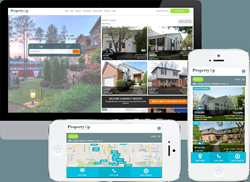 With the ever-changing real estate market, buyers wanted to be able to search for features beyond city, bedroom, bath and price
Barrington, IL (PRWEB) June 02, 2016
Searching for homes just got a lot easier for northern Illinois buyers with PropertyUp's innovative real estate search portal. After years of design and development, Property Up has announced their Illinois Real Estate Search platform that will help users gain more insight into the real estate market with their "feature rich" search. The search platform will also help Realtors address the needs of clients with built-in inquiry and search management features.
"With the ever-changing real estate market, buyers wanted to be able to search for features beyond city, bedroom, bath and price," explained Alina Herman of Property Up. "We are providing the information consumers desire with information that is up to date, without compromising the consumer's privacy." Herman stressed that a viewer's information would never be sold or shared.
Herman worked for Fortune 500 companies in IT before leaving the corporate world to run PropertyUp ® with her Realtor/Broker husband John Herman. Since then she has devoted her career skills to real estate technology development, most notably heading the development of the new search portal.
"The real estate industry has changed tremendously since (spouse) John started in 2002. The consumer has a lot of online tools available to them, but most of them are from third party companies that specialize in capturing consumer data and selling it to one or more real estate agents," Alina explained.
With these national, third party systems, Herman explained, the consumer doesn't get full information because the data is syndicated but doesn't come directly from the MLS. Research found that home buyers were frustrated by being contacted by multiple Realtors after searching on one of these national sites.
PropertyUp has developed a system that will keep the client's data private and the client will develop a relationship directly with PropertyUP, receiving communication from one person who will guide them through the process as well as send new listings matching the buyer's criteria as they come on the market.
There are continued plans for improvements to the already superior system, with enhanced data analytics allow buyers to see which cities are most affordable, as well as school searches and an educational real estate video blog.
About Property Up Inc
PropertyUp's mission is to create efficiency in the real estate market with use of technology and creative solutions.
In addition to providing services for conventional buyers and sellers of real estate in Northern Illinois. PropertyUp offers services for sellers who is under water (upside down in there mortgage), seller financing, and lease to sell properties.
PropertyUp may offer qualified sellers cash for their home, or they can lease the seller's home to a qualified tenant-buyer, enabling the seller to move to a new home.
PropertyUp has a network of professionals and can bring qualified contractors to repair a home or to stage and/or get the best price possible.
John Herman is a managing broker of the PropertyUp®, Barrington, has been providing superior service to clients in the Chicago land area since beginning his real estate career in 2002.
John Herman has been recognized as one of Trulia's top 1% Realtors and has been a recipient of the Five Star Professional Top Producer Award 5 years in a row. This prestigious award is given to just 2% of the Realtor population in the greater Chicago area (approximately 700 out of the 42,000 Realtors in Illinois). This award are based on customer satisfaction from past clients.