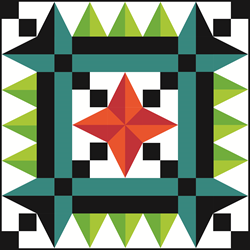 The annual quilt block contest is our biggest event of the year. Quilters from all over the country come for the block unveiling.
Omaha, NE (PRWEB) May 20, 2016
AccuQuilt announced the winners of this year's 2016 Quilt Block Design Contest. Terri Vanden Bosch of Doon, Iowa is the grand prizewinner, and her prize package is worth over $5,000. Her eye-catching winning design, Point of View, will be displayed on a 17-foot sign outside of AccuQuilt Headquarters for an entire year. Visitors who come in for a tour of AccuQuilt will see the impressive billboard and travelers on I-80 can see it, too.
Vanden Bosch's prize package also includes two round trip tickets to Omaha, hotel accommodations for three nights, and a $1,000 AccuQuilt shopping spree.
The runner-up winner is Marybeth Pusillo of Marshalltown, Iowa who designed the beautiful Flying Petals quilt block. Pusillo's prize package includes a $750 AccuQuilt shopping spree and fabric bundles from Island Batik and Timeless Treasures.
Reed Johnson of Largo, Florida is the fan's choice winner, and he designed the creative Grandma' s Necktie Garden. Johnson will receive a Quilt in a Day Retreat pass, which includes airfare and hotel accommodations.
Vanden Bosch, a longarm quilter, almost did not enter the contest this year after entering several times in the past. Not only did Vanden Bosch receive top honors as the grand prizewinner, but another one of her designs received an honorable mention. Six other entries received honorable mentions as well.
Greg Gaggini, President of AccuQuilt said, "The annual quilt block contest is our biggest event of the year. Quilters from all over the country come for the block unveiling. We had over 145 entries this year and we are always amazed at the creativity of our customers. We are really honored to have the winning block design displayed on our building all year long."
This year marks AccuQuilt's 7th Annual Quilt Block Design Contest (originally called the Barn Quilt Contest). AccuQuilt started these contests as a way to pay homage to the Barn Quilt Trail movement, which was started in 2001 by Donna Sue Groves of Adams County, Ohio. When Groves and her mother moved to a farm that had an unappealing tobacco barn, Groves promised to paint a quilt square on it one day, and thus, the movement began. Eventually, Groves worked to create a driving trail of numerous quilt squares where people would come to Adams County to see the barns with quilt squares.
Grand prizewinner Vanden Bosch will be publicly acknowledged at the AccuQuilt Unveiling Event on June 9. She and many other retreaters from the AccuQuilt Let's GO! Quilting Retreat will watch on as her quilt block design is unveiled on the huge billboard. Vanden Bosch will also have the honor of meeting legendary quilter and special guest, Eleanor Burns.
About AccuQuilt—Better Cuts Make Better Quilts
Headquartered in Omaha, Neb., AccuQuilt offers quilters, fabric crafters and retailers a premiere line of fabric cutters, dies, quilting patterns and other quilt and fabric cutting solutions that help quilters quickly and accurately cut shapes for quilting and fabric crafts. AccuQuilt also offers quilters a wide variety of rich educational resources to enhance their quilting experiences. Cutting with AccuQuilt cutters is a natural evolution of fabric cutting methods. "First scissors…then rotary…finally…AccuQuilt" for fast, easy, accurate fabric cutting. For more information, visit accuquilt.com or call 888.258.7913.