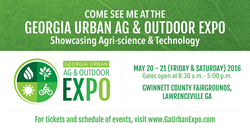 Atlanta, Georgia (PRWEB) May 20, 2016
Super-Sod can be seen at many garden-related plant fairs and home and gardening expos around Atlanta, Georgia, purveying their sod and Soil3 compost. When Ross Davies, one of the outside sales persons for North Georgia, read about this new expo, the Georgia Urban Ag and Outdoor Expo, she signed right up for a company booth at this event at the Gwinnett County Fairgrounds. The Expo lasts from 8:30am to 5pm on both Friday, May 20th, and Saturday, May 21st.
In addition to agricultural animal exhibits and speakers, the Outdoor Expo offers a schedule of excellent vegetable gardening presentations from experts such as Walter Reeves and Anthony Gobert. In sync with the vegetable gardening topic is where Super-Sod fits in, as they'll feature in their booth the OMRI Listed organic compost they make on their sod farm using the best ingredients: grass clippings, wheat stubble, and cow manure. Stop by Super-Sod's booth to learn more about this organic compost, called Soil3 and sold in a cubic yard BigYellowBag. They're also available to chat about sod needs and answer lawn care questions. Davies will likely be in the booth to great attendees, so say look for a conspicuous BigYellowBag and enter the raffle to win this BigYellowBag of Soil3. Super-Sod will also deliver it to the winner to enrich their vegetable garden.
Super-Sod is a family-run business that employs experts in turf and horticulture. They have a store nearby the Fairgrounds, at 609 Airport Road, in Lawrenceville. Focusing their sod and compost business in the Southeast, they sell sod by the individual roll, full pallet, or truckload. It's available for delivery or pick-up fresh from their farms to landscapers and directly to DIY homeowners. One of their most popular products has been their OMRI Listed Soil3 organic compost. Super-Sod continues to develop new garden products, foster gardening and landscaping, and always seeks to improve their farming practices, technology, environmental stewardship, and employee knowledge.